Triple-Crown Tracker: Miguel Cabrera increases lead in AVG, RBI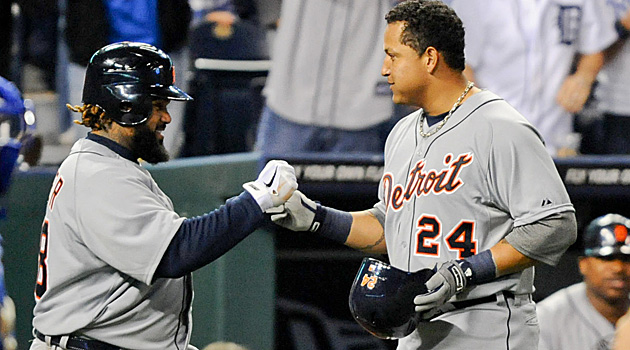 Dude, you're almost there ... just two more days! (US Presswire)
All baseball fans know the story by now, but it bears repeating because of the historic nature of what we may witness by the end of Wednesday night's baseball action: There hasn't been a league triple-crown winner in Major League Baseball since 1967, and Tigers third baseman Miguel Cabrera is about to end that drought.
Follow Tigers-Royals live on CBSSports.com Gametracker
Plate appearance 1: Single. Batting average: .330
Plate appearance 2: 2-RBI single, running total to 139. Batting average: .331
Plate appearance 3: Lined out to right field. Batting average: .331
And that'll do it. Cabrera has been removed from the game. He increased his lead in average and RBI.


---

Tuesday night, Cabrera is in the lineup again. He faces the Royals in Kauffman Stadium. The Kansas City starting pitcher is Jeremy Guthrie. If career history is any indicator, Cabrera has a great shot to nail down the triple crown. In 28 career plate appearances against Guthrie, Cabrera is hitting .304/.393/.565 with two homers and four RBI.
Also, Cabrera loves hitting in Kauffman Stadium. After a huge game Monday night, Cabrera is now hitting .365/.413/.602 with 10 homers and 38 RBI in 196 plate appearances there in his career.
Cabrera's biggest competition at this point appears to be Josh Hamilton in the category of home runs. Hamilton squares off against Travis Blackley and the Athletics on Tuesday night. Hamilton is 2-for-10 with no homers against Blackley in his career. In 152 plate appearances in Oakland, Hamilton has six homers. Blackley has only allowed two homers in 48 innings pitched at home this season.
So, again, it's looking good for history.
Leaderboard heading into Tuesday night
Average
Cabrera .329
Mike Trout .325
Joe Mauer .322
Home Runs
Cabrera 44
Josh Hamilton 43
Edwin Encarnacion 42
Curtis Granderson 41
Adam Dunn 41
RBI
Cabrera 137
Hamilton 127
For more baseball news, rumors and analysis, follow @EyeOnBaseball on Twitter, subscribe to the RSS feed and "like" us on Facebook.