GIF: Teddy wins Nationals' Presidents Race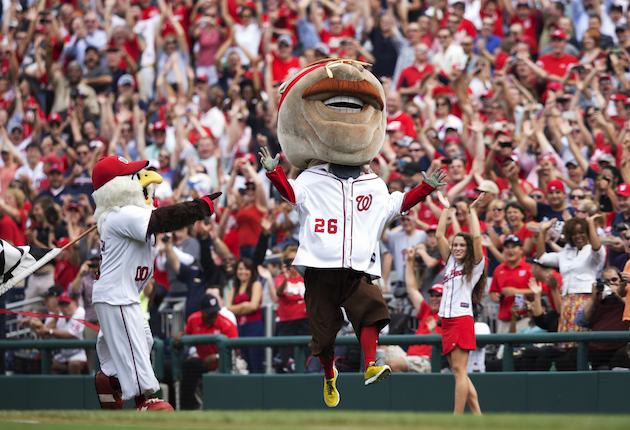 Teddy finally won. Now what? (AP)
And you thought the Nationals had something to celebrate on Monday? On Wednesday, Teddy Roosevelt won the fourth-inning Presidents Race for the first time, breaking a 538-game losing streak.
Here's the proof in GIF form: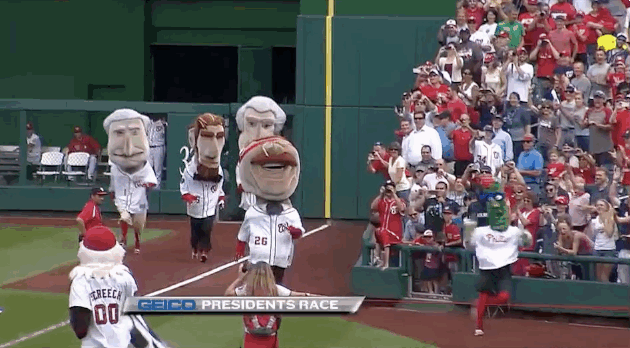 There had been rumblings Roosevelt would win in the final game of this season, marking the end not only of his losing streak, but the Nationals' streak of nonwinning seasons in Washington, D.C.
Like the Nationals, Teddy got some help from the Phillies. A dollar-store version of the Phillie Phanatic knocked down the other three presidents, Thomas Jefferson, Abraham Lincoln and George Washington, letting Roosevelt cross the finish line in first place.
Here's what he had to say on Twitter:
I'm just getting warmed up! Time to get ready for the postseason! You ain't seen nothing yet! The Rough Rider has arrived!

— Teddy Roosevelt (@Teddy26Nats) October 3, 2012
Nathan Fenno of The Washington Times has the obit on Teddy's losing streak.
Immediately following Teddy's win, Ryan Zimmerman homered, then Michael Morse doubled and Tyler Moore doubled to give the Nationals the lead over Cliff Lee and the Phillies.
For more baseball news, rumors and analysis, follow @EyeOnBaseball on Twitter, subscribe to the RSS feed and "like" us on Facebook.