Jim Johnson's outstanding season and how a few awful outings can ruin a reliever's rate stats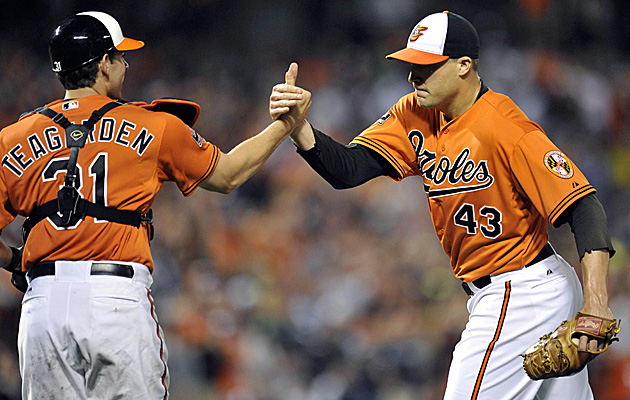 Just two awful outings stood between Johnson and legitimate Cy Young chances. (US Presswire)
Although Rays reliever Fernando Rodney set an ERA record for relief pitchers this season and will likely garner a decent amount of support for the AL Cy Young award (I'll guess he finishes maybe fourth?), the big-league saves leader for 2012 was Jim Johnson. The Orioles' closer saved 51 games in 54 chances. And if not for two utterly horrifying outings, he'd probably garner as much Cy Young support as Rodney.
First, let's note there have been only eight times in baseball history that a player has recorded more saves in a single season than Johnson just did: Francisco Rodriguez (62 in 2008), Bobby Thigpen (57 in 1990), Eric Gagne (55 in 2003), John Smoltz (55 in 2002), Trevor Hoffman (53 in 1998), Randy Myers (53 in 1993), Mariano Rivera (53 in 2004) and Eric Gagne (52 in 2002). Johnson is tied for ninth all-time in single-season saves with Rod Beck (1998) and Dennis Eckersley (1992).
But if not for two outings, Johnson would probably have a pretty good shot at the Cy Young award. At the very least, he'd be in the conversation alongside Rodney because of three more saves and playing for a playoff team.
On July 16, Johnson was only able to record one out while allowing five runs on four hits. On July 27, Johnson worked just 2/3 of an inning while coughing up six runs on five hits and a walk.
That's one total inning that accounted for 11 of Johnson's 19 earned runs for the entire 2012 season. What if we take that inning away? Johnson approaches Rodney, that's what. Here is Johnson's line -- again, without those two awful outings -- compared to Rodney's:
Johnson: 51 saves, two blown saves, 1.06 ERA, 0.89 WHIP, 41 strikeouts, 67 2/3 innings.
Rodney: 48 saves, two blown saves, 0.60 ERA, 0.78 WHIP, 76 strikeouts, 74 2/3 innings.
Let's not misconstrue the point here, though. We can't just cherry-pick and take away those two outings and say Johnson is better than his numbers. He had those outings. They count. Johnson's 2.49 ERA and 1.02 WHIP are the stat lines he earned.
A sidenote here is this is actually what makes Rodney's season so special. He avoided those meltdown outings, which is pretty tough to do. Johnson is an elite closer and he couldn't do it.
The broader point here, though, is just how much damage a few bad outings can do to the line of a relief pitcher who only logs 65-75 innings per season, as opposed to a starting pitcher who has 200 innings or so to play with.
So, yes, Johnson's season was very special. It was just two short outings away from being even more special.
For more baseball news, rumors and analysis, follow @EyeOnBaseball on Twitter, subscribe to the RSS feed and "like" us on Facebook.