MLB names umpires for wild card, division series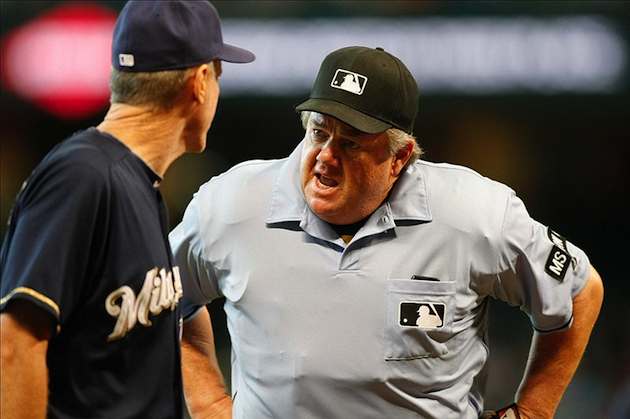 Joe West will serve as crew chief for the Nationals' NLDS. (US Presswire)
Oh, Nationals fans, just you get ready. Not only did you draw the No. 1 seed for the National League playoffs, you also drew Joe West.
The controversial umpire is the crew chief for the group of umpires calling the NLDS between the Nationals and the winner of Friday's wild-card game between the Cardinals and Braves. West will be joined by Paul Emmel, Ed Hickox, Marvin Hudson, Jim Joyce and Alfonso Marquez.
Jeff Kellogg will head the crew assigned to the NL wild-card game, joined by Mike Winters, Gary Cederstrom, Jeff Nelson, Sam Holbrook and Rob Drake.
The AL wild card-game will be called by Gary Darling (crew chief), Jerry Layne, Ted Barrett, Bill Miller, Greg Gibson and Chris Guccione.
The other NLDS will be led by Gerry Davis. The other umpires for the Reds-Giants series are Phil Cuzzi, Chad Fairchild, Tom Hallion, Dan Iassogna and Brian O'Nora.
Dana DeMuth leads the umpires for the ALDS between the A's and the Tigers. DeMuth's crew includes Scott Barry, Wally Bell, Eric Cooper, Jim Reynolds and Mark Wegner.
The ALDS between the Yankees and the wild-card winner (Texas or Baltimore) will be headed by Brian Gorman with a crew consisting of Mark Carlson, Fieldin Culbreth, Mike Everitt, Angel Hernandez and Tony Randazzo.
Get your ire ready because one of these guys will, no doubt, be the only reason your favorite team doesn't advance in the playoffs.
For more baseball news, rumors and analysis, follow @EyeOnBaseball on Twitter, subscribe to the RSS feed and "like" us on Facebook.