R.I.P., 2012 Texas Rangers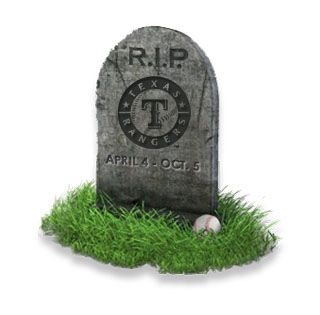 The Texas Rangers, two-time defending AL champs, are out of the running. Now let us place them in a pine box, lower them into the ground and cover them with dirt. The poor souls ...
What went right
Lots went right until, oh, late September. The Rangers played .605 ball in the first half, which, in accordance with expectations, positioned them as the best team in baseball. Josh Hamilton had an MVP-caliber campaign for much of the year, Yu Darvish had a successful rookie season, Elvis Andrus emerged as one of the top all-around shortstops in baseball, and Matt Harrison pitched like an ace. Elsewhere, Joe Nathan had a tremendous comeback season, and the bullpen as a whole thrived. Adrian Beltre was typically outstanding.
What went wrong
Ian Kinsler struggled at the plate and in the field. Derek Holland failed to take the anticipated next step. Hamilton collapsed down the stretch. Mike Napoli came down from his lofty 2011 perch. Colby Lewis's season was cut short because of a forearm injury, and Neftali Feliz underwent Tommy John surgery in early August. Michael Young played far too much given his level of productivity, and Nelson Cruz put up his worst number since 2007.
MVP: Beltre. As usual, he provided top-shelf defense at third, and he also put up a batting line of .321/.359/.561 with 36 homers and 33 doubles. He's crafting himself a hall-of-fame career.
LVP: Young. His OPS fell to .682 this season. That's simply unacceptable for a player who spent the plurality of his time at DH. That manager Ron Washington continued to trot out Young against right-handers is inexplicable.
MLB free agents to be: OF Josh Hamilton, C Mike Napoli, RP Mike Adams, SP/RP Roy Oswalt
Offseason gameplan
Despite the disappointing end to the season, the Rangers remain well positioned to succeed in 2013. Obviously, they have some big free-agent decisions to make, starting with Hamilton. They have plenty of young talent -- Jurickson Profar, to cite but one example -- to wedge into important roles, and they have plenty of financial latitude. The challenge will be to fill the holes left by Hamilton and Napoli, should GM Jon Daniels and company decide to let them walk.
Ridiculously premature prediction for 2013
Yu Darvish contends for the Cy Young, and the Rangers again claim an AL wild-card berh.
For more baseball news, rumors and analysis, follow @EyeOnBaseball on Twitter, subscribe to the RSS feed and "like" us on Facebook.