ALDS Athletics-Tigers Game 2 preview: Tommy Milone vs. Doug Fister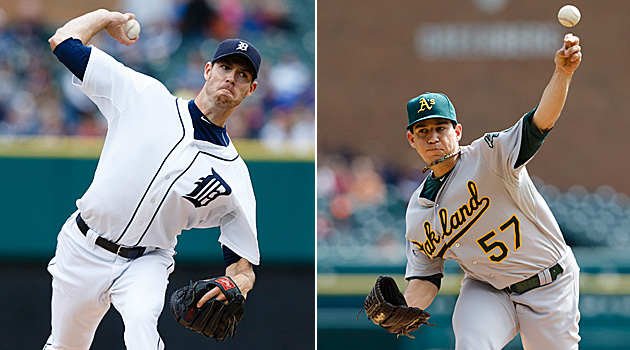 It's Fister vs. Milone in an underrated pitching matchup for Game 2. (US Presswire)
After a hiccup to start Game 1, in the form of a Coco Crisp leadoff homer, Justin Verlander dominated the Athletics and led his Tigers to victory. They now have a 1-0 lead in the best-of-five series.
There isn't much time to harp on this one, though, as Game 2 is set for 12:07 p.m. ET Sunday in Detroit. This one is pivotal to how the rest of the series will play out.
If the Tigers win, the A's backs are against the wall. Not only would Oakland head home with zero margin for error, but they'd know they'll have to topple Verlander to win the series, in addition to Max Scherzer -- who has been outstanding down the stretch -- and the quietly underrated Anibal Sanchez.
If the A's win, it's all locked up headed back to Oakland. The A's would have three home games and would need to win two, while the Tigers would have to steal a pair on the road, including at least one game in which Verlander isn't pitching.
Basically, I believe whoever wins Game 2 wins the series.
It's Tommy Milone (13-10, 3.74) for the A's against Doug Fister (10-10, 3.45) of the Tigers.
Milone vs. Tigers
Milone's splits for the entire season show problems on the road, where he was 6-6 with a 4.83 ERA and 1.52 WHIP. A closer look, however, shows that he wasn't bad on the road down the stretch. In his last four road starts, Milone only allowed five earned runs in 22 2/3 innings (1.99 ERA).
As far as against the Tigers, Milone faced them twice. He came away 1-0 with a 3.09 ERA and 1.54 WHIP. In only 11 2/3 innings, the Tigers collected 14 hits.
It's a small sample, of course, but in Milone's career, the Tigers' hitters have had good success against him. Miguel Cabrera is 2-for-6, Omar Infante is 2-for-4 and the entire roster is hitting .333/.380/.444 against him.
The Tigers are worse against left-handers than right-handers, too, as they posted a .253/.329/.395 line against southpaws this season (.275/.337/.434 against righties).
Fister vs. Athletics
Fister comes in with a hot hand, as he was 8-4 with a 2.67 ERA in the second half. Fister was better at home (6-3, 3.21) than on the road (4-7, 3.70) this season, too.
In 2012, Fister only faced the A's one time but he was very good. It came all the way back on May 12 and Fister worked six strong innings, allowing only five hits and one run and striking out eight. Of course, the A's lineup he faced that day wasn't even close to the lineup he'll be seeing Sunday.
Only a few A's have seen Fister a decent amount of time. Cliff Pennington has been awful (1-for-21) while Coco Crisp has had great success (6-for-12, two triples). Otherwise no one has more than six plate appearances against Fister and several members of the A's lineup -- Stephen Drew, Yoenis Cespedes, Brandon Moss, Josh Donaldson and Derek Norris -- have never stepped in against him.
As far as left-handers or right-handers, the difference is negligible for the A's in most rate-stat categories.
For more baseball news, rumors and analysis, follow @EyeOnBaseball on Twitter, subscribe to the RSS feed and "like" us on Facebook.