ALDS Yankees-Orioles Game 2 preview: Andy Pettitte vs. Wei-Yin Chen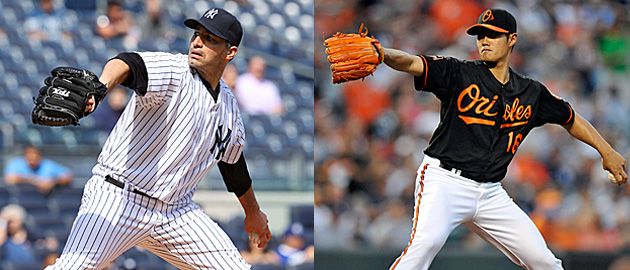 It's a pair of lefties squaring off in Baltimore Monday evening. (US Presswire)
The Yankees took Game 1 of the ALDS against the Orioles on the strength of CC Sabathia's outing and a five-run ninth inning. It's time to shift our focus to Game 2, which really feels like a must-win game for the Orioles.
Yes, I'm suggesting that if the Orioles fall behind 2-0 and head to New York to face Hiroki Kuroda in Game 3 that they are staring down a possible sweep, and I'm also suggesting there's no chance they'll win three in the Bronx.
But there's a Game 2 before that bridge needs to be crossed, and the good news is these Orioles have been bouncing back all season. In the last two months of the regular season, the Orioles only lost two straight games three times. In those last two months (Aug. 3-Oct. 3) they were 16-3 in games following a loss.
Will the trend continue against the Yankees in Game 2? We shall see quite soon.
It'll be Andy Pettitte (5-4, 2.87) for the Bronx Bombers and Wei-Yin Chen for the O's at 8:07 p.m. ET in Baltimore (TV: TBS).
Pettitte vs. Orioles
Which history do we wanna explore? There are so many options with Pettitte.
Road: Pettitte is 1-3 with a 4.26 ERA on the road this season.
Camden Yards: Pettitte is 16-4 with a 4.11 ERA in 144 2/3 career innings in Baltimore.
Postseason: He's 19-10 with a 3.83 ERA in 263 career postseason innings.
As far as his history against these Orioles, it's mostly limited. He's only faced four of them more than eight times. Jim Thome has a .263/.317/.474 line with two homers and two doubles in 42 plate appearances. J.J. Hardy has only one hit (a triple) in 17 career plate appearances against Pettitte. Adam Jones, on the other hand, is 6-for-17 (.353) with a triple. Also, Mark Reynolds is 2-for-6, both hits being doubles.
Chen vs. Yankees
Chen's home/road splits don't show much difference, but he's actually a hair worse at home (6-6, 4.11 ERA, 1.28 WHIP at home; 6-5, 3.91, 1.24 on road).
Of Chen's 32 starts this season, four came against the Yankees. He was 1-2 with a 5.25 ERA in 24 innings in those starts. His one real good start against New York came back in mid-May, and his most recent outing was Sept. 7, when the Yankees tagged him for seven runs on six hits -- including three homers -- in 4 2/3 innings.
Against Chen, Robinson Cano is 3-for-11 (.273) with a double and homer, Derek Jeter is 3-for-12 (.250) with a homer, Nick Swisher is 2-for-11 (.182) with a double, Curtis Granderson is 1-for-8 (.125) with a homer, Alex Rodriguez is 2-for-7 (.286) with a homer and Russell Martin is 2-for-8 (.250) with a homer.
Being that this is his rookie year in America, Chen has obviously never made a postseason start.
For more baseball news, rumors and analysis, follow @EyeOnBaseball on Twitter, subscribe to the RSS feed and "like" us on Facebook.