ALDS Orioles-Yankees Game 3 preview: Miguel Gonzalez vs. Hiroki Kuroda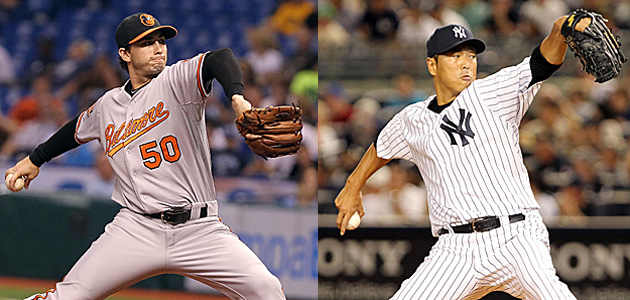 Gonzalez and Kuroda will square off in Yankee Stadium. (US Presswire)
After the Orioles evened up the series Monday night, things will shift to New York for Games 3, 4 and 5 (if necessary). So it's essentially a three-game series, with all three games coming in Yankee Stadium.
These two teams played three-game series three times this season in Yankee Stadium. And get this: The Orioles took two of three each of those three times. If that happens again, the Orioles will have taken down the Yankees in the series and will be headed to the American League Championship Series.
But let's just look one game at a time.
For now, Game 3 is scheduled for 7:37 p.m. ET on Wednesday, but it will shift to 8:37 p.m. ET if both the Tigers-A's and Reds-Giants series are sweeps. Miguel Gonzalez (9-4, 3.25) gets the ball for the visiting Orioles while Hiroki Kuroda (16-11, 3.32) will pitch for the Yankees. If the limited past history is any indication, we're in for a low-scoring affair.
Gonzalez vs. Yankees
He's a 28-year-old rookie, but had a nice year for the O's, especially on the road. Gonzalez was 6-2 with a 2.74 ERA and 1.05 WHIP in 65 2/3 road innings this season.
Gonzalez faced the Yankees twice this season, both times in Yankee Stadium, and he had great success. He won both games and put together a 2.63 ERA and 0.81 WHIP while striking out 17 and walking only one in 13 2/3 innings. His most recent outing against the Yankees came Aug. 31, when he threw seven shutout innings.
All the individual matchups have small-sample data, as no Yankees have faced Gonzalez more than six times. Nick Swisher, Robinson Cano and Curtis Granderson are all 0-for-6 against Gonzalez. Ichiro Suzuki and Raul Ibanez are both 2-for-6 with a homer against Gonzalez while Derek Jeter is also 2-for-6. Might we see Eric Chavez somewhere in the lineup? He's 3-for-6 with a homer off Gonzalez.
Kuroda vs. Orioles
Kuroda was much better at home than on the road this season, going 11-6 with a 2.72 ERA and 1.01 WHIP in Yankee Stadium.
He pitched against the Orioles twice this season, and both times came in Yankee Stadium. He was 1-1 with a 2.93 ERA and 0.85 WHIP in those two starts, the most recent being a loss to Gonzalez on Aug. 31.
Kuroda has faced three Orioles at least 10 times, and he's had great success against all three. Mark Reynolds is 5-for-26 (.192), Nate McLouth is 2-for-16 (.125) and J.J. Hardy is 1-for-10 (.100) against Kuroda. Chris Davis, Adam Jones and Matt Wieters are all 2-for-6, but the collective Orioles roster is hitting .193/.225/.301 career against Kuroda.
For more baseball news, rumors and analysis, follow @EyeOnBaseball on Twitter, subscribe to the RSS feed and "like" us on Facebook.