NLDS Giants-Reds Game 4 preview: Barry Zito vs. Mike Leake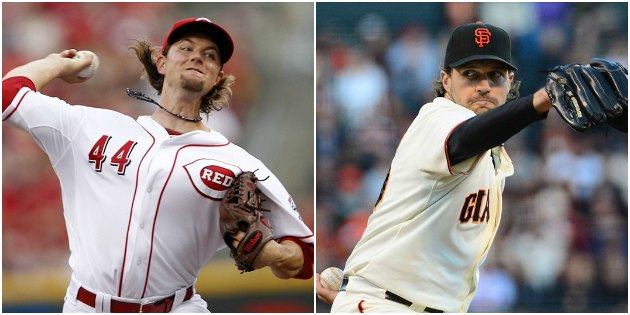 Mike Leake will likely face Barry Zito in Game 4. (US Presswire)
The Giants forced Game 4 in the National League Division Series against the Reds with a 2-1, 10-inning victory on Tuesday night, and Johnny Cueto's injury forced Cincinnati to place Mike Leake on the active roster, which it did before Wednesday afternoon's Game 4.
So far in this series, Reds starters have had their way with the Giants' hitters. The first three starters have held the Giants to just a 2-for-43 performance. However, that includes Cueto facing just one batter in Game 1, while Bronson Arroyo and Homer Bailey each allowed just one hit over seven innings.
No NL team has ever lost the first two games of a Division Series and won the series. But the Giants have as good a chance as anyone, despite the remainder of the series being played at Great American Ball Park. Not only do they face Leake, who was initially left off the NLDS roster, but they have Matt Cain ready for Game 5 while the Reds' presumed Game 5 starter, Mat Latos, is ill.
But for Wednesday, it's Barry Zito (15-8, 4.15 ERA) for the Giants against Leake (8-9, 4.58).
Zito vs. the Reds
Since Aug. 7, the Giants have won each of Zito's 11 starts, with the lefty going 7-0 with a 3.92 ERA. Despite his stellar record, teams still hit .293/.336/.443 against him during that stretch. Overall, Zito is 15-8 with a 4.15 ERA. His 15 wins are his most since 2006, his final season in Oakland.
Zito has faced the Reds twice this season, both starts, going 0-1 with a 1.50 ERA. He earned a no-decision in his only previous start at Great American Ball Park this season. In his career pitching in Cincinnati, he's 0-2 with a 6.10 ERA in six starts.
The Reds are primarily a right-handed hitting team, with Joey Votto and Jay Bruce the only lefties in the lineup. Reds leadoff man Brandon Phillips has hit well against Zito, putting up a .421/.520/.579 line against the Giants' starter. Todd Frazier has only faced him six times but has three hits, including a home run. Bruce is 5-for-14 with a homer and a double, while Ryan Ludwick, Miguel Cairo and Scott Rolen have also homered off Zito. Votto, though, has struggled against the lefty, hitting .167/.286/.167 in 21 plate appearances.
Leake vs. the Giants
Leake performed much better away from Great American Ball Park this season. He was 4-5 with a 5.54 ERA at home and 4-4 with a 3.65 ERA on the road. Of the 26 home runs that he allowed, 17 came at Great American Ball Park.
Leake threw a complete game in a victory over the Giants on June 29 at AT&T Park in San Francisco, allowing just one run on nine hits in his only appearance against the Giants this season. The 24-year-old right-hander is 3-0 with a 4.18 ERA in five appearances and four starts against the Giants in his three-year career, despite San Francisco hitting .314/.357/.537 against him.
Hunter Pence has six hits against Leake in 18 at-bats, including a home run and two doubles. Pablo Sandoval kills Leake, going 7-for-10 with two doubles and two homers in 11 career plate appearances. Aubrey Huff and Buster Posey have also hit home runs off Leake. The only current Giants who have gone hitless in their career at-bats against Leake are pitchers Madison Bumgarner, Tim Lincecum and Cain.
For more baseball news, rumors and analysis, follow @EyeOnBaseball on Twitter, subscribe to the RSS feed and "like" us on Facebook.