Scott Rolen sounds like he's going to retire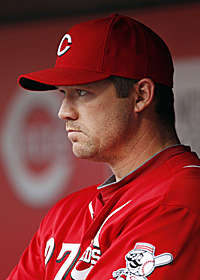 Rolen's end to the 2012 season was rough. (US Presswire)
CINCINNATI -- As reporters huddled around Scott Rolen's locker in the Reds clubhouse one last time in 2012, there was a sense -- even if Rolen didn't come out and say it -- that it would be the last time for the 37-year-old third baseman.
Rolen, a free agent after the World Series, sounded as if he had made up his mind on his future. A 17-year veteran and winner of eight Gold Gloves, as well as the 1997 NL Rookie of the Year, Rolen can be content with an exceptional career, despite striking out to end Game 5 of the National League Championship Series, ending the Reds season and likely his career.
"I don't know what I'm doing, I'll probably go home and pitch some balls (to my son) and he's going to be acting like he was in the same situation I was just in, that's the situation you want to be in, no question," Rolen said. "He's going to grow up and be in that spot some day and dad was in that spot. I'm thankful and happy to be in that spot, and to have that opportunity. It obviously didn't go the way I wanted it to. That's where I want to be."
A TV reporter then said he wouldn't ask if Rolen had made a decision about retirement, and Rolen responded, "You just did."
And while the question may not have been direct, and Rolen's answer wasn't any more so, the intent and the answer were both clear.
Rolen was then asked if he had "anything left in the tank?"
"Is there anything left in the tank? Like another game? I don't know," Rolen said. "I'm going to go home and be a dad and move forward a little bit right now and see what happens."
Soon, some sort of announcement will likely be made. When he does retire, Rolen finishes as just one of three third basemen to produce at least 2,000 hits (2,077), 500 doubles (517), 300 home runs (316) and 1,200 RBI (1,287).
A seven-time All-Star, Rolen was limited to 92 games in 2012, hitting .245/.318/.398 with eight home runs. He hit .297/.376/.473 in 50 games in the second half, but was just 4 for 16 in the NLDS.
For more baseball news, rumors and analysis, follow @EyeOnBaseball on Twitter, subscribe to the RSS feed and "like" us on Facebook.