NLDS Nationals-Cardinals Game 5 preview: Gio Gonzalez vs. Adam Wainwright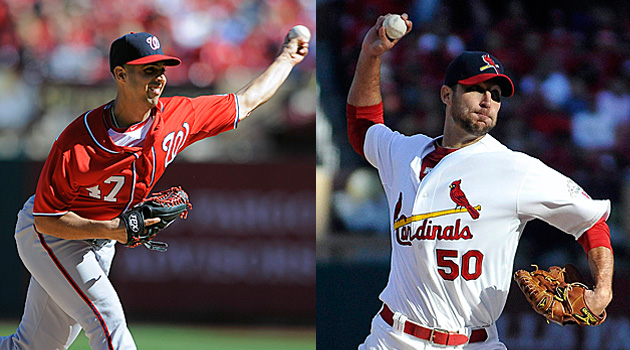 It's a Game 1 rematch, only this time it's in DC. (US Presswire)
After some excellent pitching and Jayson Werth's dramatic walk-off home run, the Nationals and Cardinals are now even in the best-of-five NLDS, two games to two.
And now, it all comes down to one game. After 166 games for the Nationals and 167 for the Cardinals, this one is the only one that matters.
The funny twist on the game time is it has progressively moved toward primetime in Washington. The first game was just after lunchtime in DC. Game 4 Thursday was late afternoon. And Friday, Game 5 is set to begin at 8:37 p.m. ET.
We will get a rematch of Game 1 on the hill, as Cy Young contender Gio Gonzalez (21-8, 2.89) is set to go for the Nationals while Adam Wainwright (14-13, 3.94) gets the nod for St. Louis.
Gonzalez vs. Cardinals
Game 1 was the first career postseason appearance for the lefty, and there may have been some jitters, as he walked seven hitters in just five innings. He only gave up one hit and two runs, but he has to get his control under, um, control before Game 5.
The good news for Gonzalez is this start happens at home. During the regular season, he was better at home (2.38 home ERA vs. 3.31 road ERA), including with his control. In 90 2/3 home innings, he walked 24 hitters. In 113 2/3 road innings, including the postseason, Gonzalez issued 59 free passes.
More good news for Washington: Gonzalez faced the Cardinals one time at home this season. And he threw a shutout, allowing five hits and three runs in his nine innings while striking out eight in a 10-0 Nationals win on Aug. 31.
As far as the individual matchups, Gonzalez has owned most of the Cardinals. Carlos Beltran is 0-for-8 against him, Allen Craig is 1-for-7, Matt Holliday is 0-for-5 and so on. On the other end, Jon Jay is 2-for-4 with two walks. Still, the Cardinals' roster has a career triple-slash line of .130/.281/.152 against Gonzalez.
Wainwright vs. Nationals
Wainwright was good in Game 1 of the series, working 5 2/3 innings and allowing one run on six hits. He walked three, but struck out 10. That came at home, though.
Wainwright had better success at home (10-6, 3.73) than on the road (4-7, 4.20) this season.
Also, Wainwright was awful in Nationals Park on Aug. 31 this season. He only lasted 2 2/3 innings, giving up nine hits and six earned runs. On the flip side, Wainwright came back and won in Nationals Park on Sept. 28, going six innings and only giving up one run on five hits.
Collectively, the current Nationals roster is hitting .262/.309/.389 in 164 career plate appearances. Ian Desmond is 5-for-11 (.455), Bryce Harper is 3-for-8 (.375) with a double and Kurt Suzuki is 3-for-9 (.333). Jayson Werth only has a .286 career on-base percentage against Wainwright while Ryan Zimmerman's OBP sits at .276. Otherwise, nothing really stands out as noteworthy in a decent sample.
One final item of note: Wainwright's career rate stats in the postseason are stellar. He has a 0.77 ERA and 0.94 WHIP in 23 1/3 innings.
For more baseball news, rumors and analysis, follow @EyeOnBaseball on Twitter, subscribe to the RSS feed and "like" us on Facebook.