ALDS Orioles-Yankees Game 5 preview: Jason Hammel vs. CC Sabathia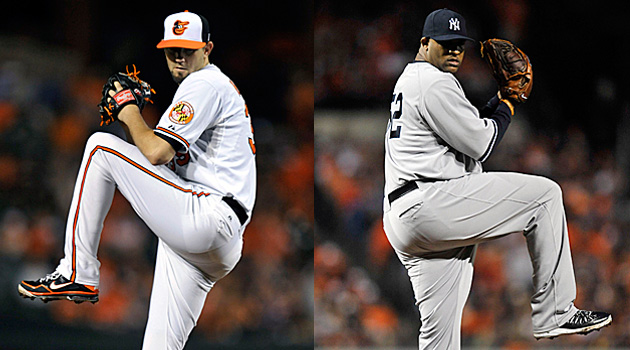 It's a rematch of Game 1 for all the marbles. (US Presswire)
After a 13-inning marathon, the Orioles beat the Yankees Thursday night, 2-1. It moved the Orioles to 17-3 on the season -- both regular season and the playoffs -- in extra-inning games, but there's an interesting twist to this one. The only three losses you see above were all at the hands of the Yankees. And Thursday night's win was the first extra-inning win by the Orioles over the Yankees. So it had to be huge for the psyche of this team that can never, ever be counted out.
For all intents and purposes, though, we have a clean slate. It's Game 5, a one-game do-or-die situation for both ballclubs. The Yankees have been through this plenty of times, with some success and some failure. These Orioles have not.
On the mound, it's a rematch of Game 1, as the Orioles send Jason Hammel (8-6, 3.43 in regular season) to the mound against Yankees ace CC Sabathia (15-6, 3.38 in regular season). It'll be a 5:07 p.m. ET start in Yankee Stadium.
Sabathia vs. Orioles
The workhorse had a very good outing in Game 1, working 8 2/3 innings and allowing two earned runs. He struck out seven and walked one. In his postseason career, Sabathia is 8-4 with a 4.56 ERA and 1.56 WHIP.
Last time out against the Orioles was on the road while this game will be at home for CC. Sabathia's rate stats are much better at home (2.69 ERA, 0.95 WHIP) than on the road (4.02, 1.32).
Sabathia was pretty bad against the Orioles in the regular season (0-2, 6.38 in three starts), but, again, that didn't matter in Game 1. He hasn't faced the Orioles in Yankee Stadium since Sept. 7, 2010. He was actually knocked around for a loss in that game, but that Orioles team wasn't even close to this one.
As far as individual matchups, Adam Jones (.311/.367/.600 with three homers and 10 RBI in 49 plate appearances) and J.J. Hardy (.381/.381/.714 in 21 PA) hit Sabathia real well. Jim Thome (.129/.270/.516, though he does have four homers in 37 PA) and Matt Wieters (.179/.207/.321 in 29 PA) do not.
Hammel vs. Yankees
Hammel had only made two starts after the All-Star break and none since Sept. 11 before taking the mound in Game 1, but he pitched admirably against the Yankees. He went 5 2/3 innings, allowing four hits and two earned runs.
During the regular season, Hammel was essentially the exact same pitcher on the road as he was at home. He had a 3.44 ERA and 1.25 WHIP at home, with a 3.43 ERA and 1.22 WHIP on the road.
Hammel only got one start in Yankee Stadium this season, and he gave up five hits and two earned runs in six innings.
In terms of career numbers in the individual matchups, the Yankees have a pretty good history against Hammel. Their roster is hitting .289/.353/.494 against him. Alex Rodriguez has four homers and a 1.282 OPS against Hammel in 29 PA. Robinson Cano, Derek Jeter, Ichiro Suzuki (at .533), Nick Swisher and Mark Teixeira are all hitting over .300 against Hammel in their respective careers. Russell Martin (1-for-11, which is .091) is the only one who badly struggles against Hammel. Curtis Granderson is 3-for-15 (.200), but he has an .800 OPS due to three walks, a double and a homer.
So the numbers say the Yankees have an advantage here, not that the Orioles have really followed numbers much this season. Do not miss this one. It's destined to be a beauty.
For more baseball news, rumors and analysis, follow @EyeOnBaseball on Twitter, subscribe to the RSS feed and "like" us on Facebook.