Yankees return on 2012 investment in A-Rod? Pretty ugly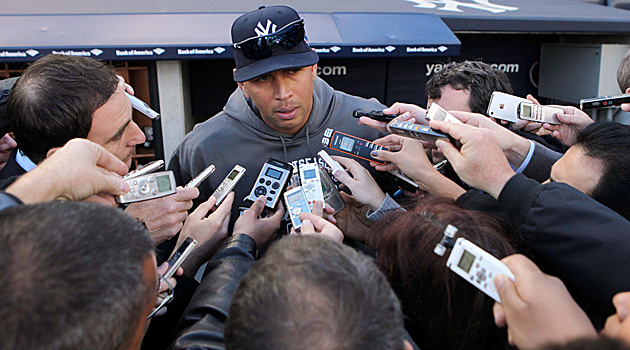 A-Rod's benching has become a huge topic of conversation. (US Presswire)
As most baseball fans have heard by now, high-priced Yankees third baseman Alex Rodriguez is not in the starting lineup for Game 5 of the ALDS on Friday. This comes two days after A-Rod was removed for a pinch-hitter who ended up hitting homers to tie and then win the game. A-Rod was again pinch-hit for in Thursday night's Game 4.
Anyway, Forbes.com has an interesting breakdown of the Yankees' return on investment for A-Rod this season. It's not a pretty bill. Here's how much he gets paid ...
-For each time he took the field: $237,705

-For each full game he played on offense and defense: $381,579

-For each hit: $230,159

-For each extra-base hit: $805,556

-For each base advanced: $145,729

-For each homer: $1.6 million

-For each run scored: $381,892

-For watching Raul Ibanez homer in his place in a playoff game: $19,295 (an inning's salary)

-For watching Eric Chavez line out in his place in a playoff game: $19,295

-For sitting out the fifth and deciding game of the ALDS against the Orioles: $173,653
I feel compelled to point out A-Rod isn't the only offensive player struggling in the series. Far from it. Here are a few others:
• Curtis Granderson is hitting .063 with no extra-base hits and nine strikeouts in 16 at-bats.
• Robinson Cano is hitting .111/.158/.222 in the series.
• Nick Swisher is hitting .133/.222/.133.
• The Yankees are collectively hitting .216/.280/.333, with most of the damage coming in a five-run ninth inning in Game 1.
• Adam Jones is hitting .105 with no walks and or extra-base hits.
• Mark Reynolds is hitting .188 with no extra-base hits.
• Jim Thome has only not made an out once, and it was ruled a hit despite probably being an error on Jayson Nix.
• Matt Wieters is hitting .118/.167/.176.
• The Orioles are collectively hitting .197/.238/.296.
But here's the issue: None of these guys makes what Rodriguez does. Only Thome is also an all-timer, but he's 42 (Cano is probably headed to being one, but I don't think we can say he's an all-time great yet). Fair or not -- and I'd say it's fair -- that's why Alex Rodriguez is such a hot topic.
For more baseball news, rumors and analysis, follow @EyeOnBaseball on Twitter, subscribe to the RSS feed and "like" us on Facebook.