Yankee Stadium attendance a hot topic in media
Sunday afternoon, Yankee Stadium plays host to a baseball game for the fifth consecutive day, and attendance -- specifically, actual bodies in the seats, not necessarily tickets sold -- is a popular topic.
Friday, Game 5 of the ALDS started just after 5 p.m. and the stands looked like a ghost town. The excuse was short notice combined with how difficult it is to navigate through New York City around 5 p.m. on a Friday afternoon.
But then this happened Saturday, for Game 1 of the ALCS:
With 15 minutes until first pitch, this is what left field looks like. What's the excuse today?lockerz.com/s/252862829

— Jeff Passan (@JeffPassan) October 13, 2012
Passan later reported that "dozens of fans" were moved from the upper levels into the lower levels of the stadium, so it didn't look so empty on TV.
Sunday, Darren Rovell of ESPN.com worked up a story about the "several thousand" tickets still available for Sunday's Game 2, which includes an email the Yankees sent out to fans telling them that tickets were still available. There are some excuses provided by Yankees president Randy Levine, including that huge blocks of seats being empty were due to players returning unused guest tickets at the last minute, due to the packed schedule.
We also know about the high prices, such as $131 for one seat in section 230, Rovell reports.
And then there's this:
"It's hard to ask for people to buy tickets for five games in a row," said National Event Company president and CEO Jason Nissen (ESPN.com). "Especially given the fact that by the time the Yankees won the division series, corporate America was closed for the weekend. Those are the people who are going to buy a lot of these seats."
For what it's worth, it looks about half full (total guess with my own eyes) for the start of Game 2, but here's a picture of fans lined up around the corner to buy tickets, taken by my colleague Dayn Perry: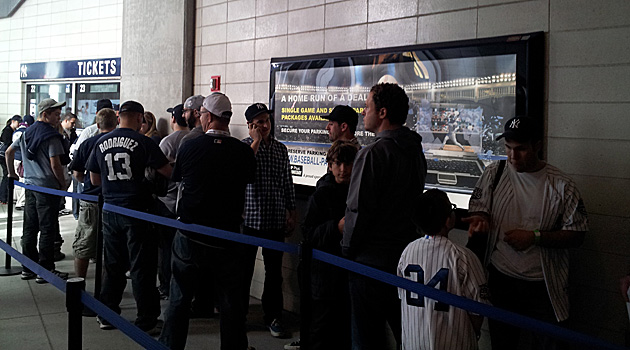 For more baseball news, rumors and analysis, follow @EyeOnBaseball on Twitter, subscribe to the RSS feed and "like" us on Facebook.