Carlos Beltran strikes again as Cardinals take Game 1: Quick hits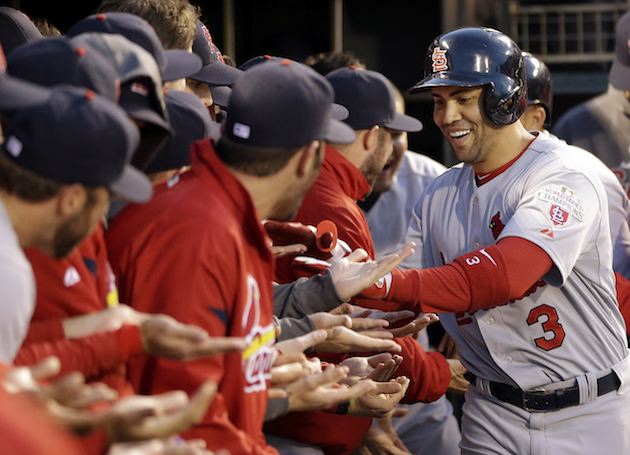 Carlos Beltran's fourth-inning home run was the 14th postseason homer of his career. (AP)
SAN FRANCISCO -- The Cardinals are just three games from returning to the World Series after taking Game 1 of the National League Championship Series 6-4 at AT&T Park on Sunday. While the linescore makes the game look like an offensive bonanza, all 10 runs came in just two innings, with both teams scoring four in the fourth. But that, coupled with David Freese's second-inning homer was enough for St. Louis...
Hero: Giants fans booed Carlos Beltran in every at-bat, presumably because he didn't re-sign with San Francisco. He gave them a better reason, hitting a two-run homer in the fourth that ended up being the game-winner. Not counting this year's one-game wild card playoff, Beltran has now homered in five of his six postseason series, including two in the NLDS. In the postseason, he has a slash line of .381/.492/.848. Pointed that out to a friend in the press box, whose response was, "So you're saying that's good?" For the record, it is.
Goat: Not too many people are using the more than the first syllable of Madison Bumgarner's last name to describe his postseason appearances thus far. The loser of Game 3 of the NLDS didn't make it out of the fourth inning on Sunday, giving up six runs on eight hits in just 3 2/3 innings. Beltran's two-run homer ended his night.
Turning point: Joe Kelly didn't have much time to warm up in the Cardinals bullpen, but it was enough for him to stop the bleeding, as he relieved Cardinals starter Lance Lynn with two outs in the fourth and got Angel Pagan to ground into a fielder's choice with his only pitch of the fourth. That stopped the Giants' rally, leaving Marco Scutrao on deck. Scutaro singled to lead off the fifth.
It was over when: Like the majority of this postseason, this one was tight throughout, so nobody felt comfortable until the final out was recorded when Jason Motte tagged first base after getting a throw from first baseman Allen Craig to retire Marco Scutrao, who represented the tying run.
Next: Game 2 features last year's postseason hero, the Cardinals' Chris Carpenter against Ryan Vogelsong at 8 p.m. ET.
For more baseball news, rumors and analysis, follow @EyeOnBaseball on Twitter, subscribe to the RSS feed and "like" us on Facebook.