NLCS Cardinals-Giants Game 2 preview: Chris Carpenter vs. Ryan Vogelsong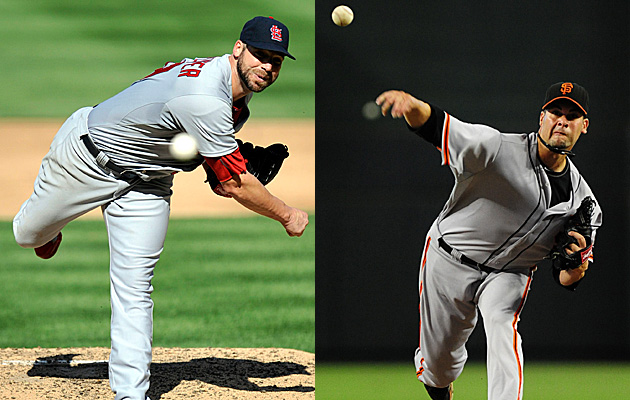 Chris Carpenter and Ryan Vogelson received no decisions in their respective Game 3 starts in the NLDS. (US Presswire)
SAN FRANCISCO -- So much for home-field advantage, as the Giants enter Game 2 of the National League Championship Series still looking for their first home victory of the postseason.
The Giants aren't alone, though. So far this postseason, home teams are 9-16 and in the National League it's worse, with home teams going just 2-11 so far.
Neither of monday's starters, Chris Carpenter for the Cardinals and Ryan Vogelsong of the Giants, received the victory in their respective Game 3 starts in the National League Division Series, but their teams won those games on the road.
Carpenter vs. Giants
Carpenter is making just his fifth start of 2012 after missing the majority of the season with a right shoulder injury. He didn't face the Giants this season, but he's 4-1 lifetime against them with a 3.57 ERA in eight starts. At AT&T Park, he's made just two starts, winning both but allowing a total of six runs in 12 2/3 innings.
Against Giants hitters, Carpenter has the most experience against former Astro Hunter Pence, and he's had good success. Pence his hitting just .185 against him in 28 plate appearances, but one of his five hits was for a homer. Aubrey Huff has a worse batting average against him (.133 in 16 plate appearances) but one of his two hits was a home run. No other Giant has homered off of Carpenter. Meanwhile, former Cub Ryan Theriot loves hitting off of Carpenter. In 16 career plate appearances, he has seven this and a walk -- good for a .467 average and .500 on-base percentage. No other Giant has more than 10 plate appearances against him, and only Pence, Huff and Theriot have extra-base hits against him.
Vogelsong vs. Cardinals
In his only outing against St. Louis this season, Vogelson turned in one of his finest performances of 2012, holding the Cardinals to just three hits in seven scoreless innings in a win at Busch Stadium on Aug. 8. The former Pirate's career record isn't as good, going 2-4 with a 6.51 ERA in 16 appearances and six starts against the Cardinals. His only two starts against the Cardinals while a member of the Giants were at Busch Stadium, earning a no-decision in a loss last May in addition to the August start.
Despite his time in the NL Central, only two Cardinals hitters have more than 10 plate appearances against Vogelsong. In 13 plate appearances, Carlos Beltran is 4 for 11 with a home run and two doubles. Yadier Molina has three singles in 11 at-bats and 12 plate appearances.
For more baseball news, rumors and analysis, follow @EyeOnBaseball on Twitter, subscribe to the RSS feed and "like" us on Facebook.