ALCS Yankees-Tigers Game 4 preview: CC Sabathia vs. Max Scherzer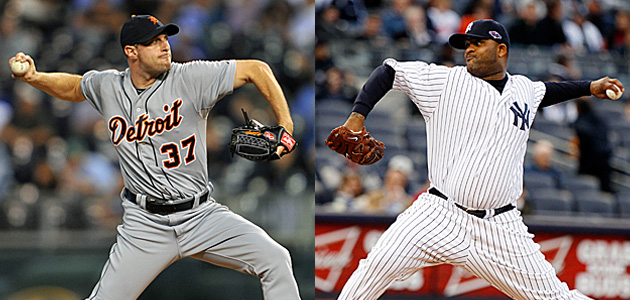 Scherzer will take on Sabathia in Game 4 of the ALCS. (US Presswire)
DETROIT -- While the term "must win" is thrown around a bit loosely in the world of sports, Game 4 will be, in the literal sense, a must-win for the Yankees. The Yanks haven't been swept in a postseason series since the 1980 ALCS, so there's also some pride at stake.

They're tasked with taking on Tigers number-two man Max Scherzer (16-7, 3.74), but the good news for the Yankees is that they'll counter with ace CC Sabathia (15-6, 3.38) on full rest.

To the match-ups …


More playoff coverage
ALCS: Tigers vs. Yankees
NLCS: Cardinals vs. Giants
Sabathia vs. Tigers

In three starts against Detroit this season, Sabathia posted a 3.32 ERA across 21 2/3 innings with 20 strikeouts, five walks and two home runs allowed. In 16 career starts at Comerica, Sabathia has a 4.26 ERA. Sabathia, of course, was very strong in two starts against the Orioles in the ALDS (1.53 ERA in 17 2/3 innings). Also in Sabathia's favor is that the Tigers this season have been significantly less effective against lefties than against right-handers.
For their careers, Tigers hitters have a quite respectable .791 OPS against Sabathia. In particular, Miguel Cabrera and, oddly enough, Gerald Laird have crushed him. Still, is there anyone the Yankees would rather have on the mound when the margin for error is down to zero?

Scherzer vs. Yankees

Scherzer has been an absolute roll since the break: 90 1/3 IP, 2.69 ERA, 110 K, 27 BB. His dominant (if somewhat brief) start against the A's in the ALDS (5 1/3 IP, 1 R, 3 H, 8 K, 1 BB), put to rest any concerns about his shoulder and ankle. As mentioned before, the best way to attack the Tigers is to put the ball in play and test their porous defense. Against a pitcher like Scherzer, who paced the majors in strikeout percentage, that's far easier said than done.

In 2012, Scherzer has made only one start against the Yankees, and during that April outing he struggled with his control (seven walks in 4 2/3 IP). In terms of control, though, Scherzer's been a different pitcher since late July. In a very real way, they're not facing the same guy they worked over back in the season's opening month.
For their careers, Yankee hitters have a measly line of .177/.266/.282 in 140 plate appearances against Scherzer.
For more baseball news, rumors and analysis, follow @EyeOnBaseball on Twitter, subscribe to the RSS feed and"like" us on Facebook.