St. Louis seems fixated on who isn't here as much as who is in NLCS
ST. LOUIS -- You'd think there would be enough excitement around the St. Louis Cardinals considering the National League Championship Series is back in town and the team is just three games from returning to the World Series. Nope, apparently the talk of the town is who isn't here.
That'd be Albert Pujols.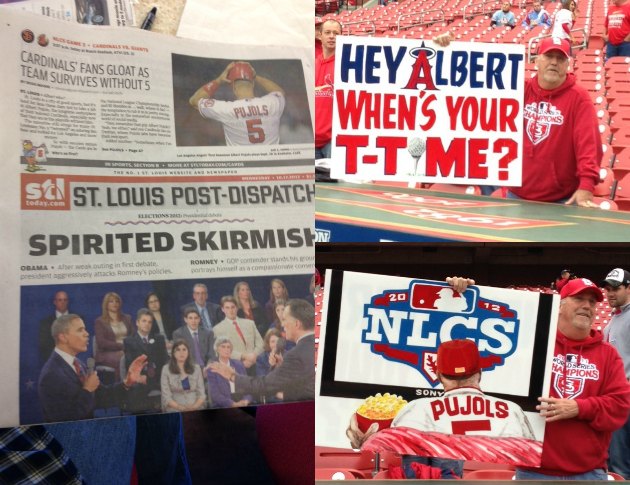 On the left is the front page of the St. Louis Post-Dispatch, and the only story on the front page about the Cardinals in the baseball-mad town is that Pujols isn't here. I also saw this fan who had a two-sided sign that is admittedly well done, although apparently quite time consuming.
I understand a certain amount of deriving pleasure from the misfortune of others, St. Louis was jilted, and there's something about the free-spending Angels coming up short, but aren't the Best Fans In BaseballTM supposed to be above this kind of thing?
For more baseball news, rumors and analysis, follow @EyeOnBaseball on Twitter, subscribe to the RSS feed and "like" us on Facebook.