Austin Jackson does it quietly, just as he has all season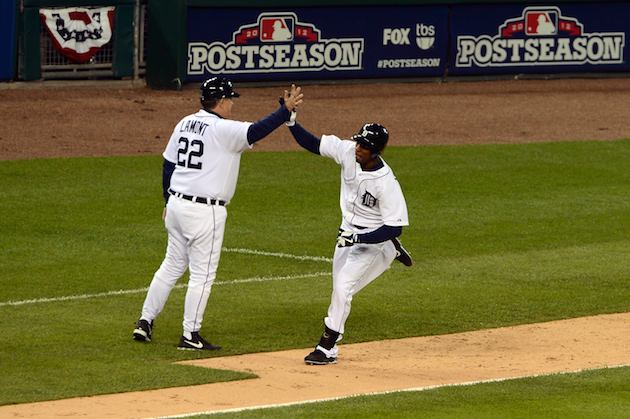 Austin Jackson was 2 for 4 with a home run in Game 4 of the ALCS (Getty Images)
DETROIT -- In a very specific way, Game 4 of the ALCS was the Tigers' 2012 season writ small. Miguel Cabrera thundered a home home run, a swing-and-miss right-hander (Max Scherzer on this night) smothered the opposition, and then there was Austin Jackson, quietly helping build that win over the course of nine innings.
On Thursday night, Jackson made six putouts in the field (and almost made a far-ranging snag of Eduardo Nunez's eventual triple), and at the plate he went 2-for-4 with a home run and walk.
It was in the seventh that Jackson turned on a Derek Lowe cutter and put it deep into the left-field seats. His blast nudged the margin to 7-1, but Jackson knew it was no mere flourish, especially not this postseason. "Take the game the other day with the Cardinals and the Nationals," he recalled. "Funny things happen. You don't want to give the other team hope."
More playoff coverage
ALCS: Tigers vs. Yankees
NLCS: Cardinals vs. Giants
Denying hope to the opposition is nothing new for the Tigers' 25-year-old center fielder. After a disappointing sophomore campaign in which he managed an OPS of just .690, Jackson in 2012 bounced back to hit .300/.377/.479 with 55 extra-base hits and 67 walks, all unintentional. Throw in his Gold Glove-caliber fielding and plus base-running, and you've got one of the most impressive young five-toolers in the game today. What also impresses is that implied renaissance at the plate. For all the weapons the Tigers have, Jackson's revitalized bat has had much to do with their charge to the pennant.
What's different? "Getting a couple of years of experience," said Jackson on the field after Game 4. "Also being able to make the adjustment with the leg kick and just sticking with it the whole year."
More experience and incremental progress toward what should be his prime seasons no doubt have played a role. And then there's that leg kick.
Jackson somewhat infamously led the AL in strikeouts as a rookie and followed that up by whiffing 181 times in 2011. High strikeout tallies aren't a problem in home run hitters, but Jackson typically thrives from gap to gap. Hence, contact rate matters more to a hitter of his profile. In the service of improving that contact rate, Jackson over the winter consulted with hitting coach Lloyd McLendon and opted to mute his high leg kick and thus shorten his "load" time at the plate. "I had to make tweaks," Jackson said of his refined approach, "but it all worked out for the best."
The numbers would agree. After striking out in 25.2% of his plate appearances in 2010 and in 27.1% of his plate appearances in 2011, Jackson this season whiffed just 21.7% of the time, which is just a few ticks above the league average. In part, it's that improved rate of contact that lifted his other numbers. Throw in all facets of his game, and Jackson has been one of the top players in all of baseball this season. On a team with the first triple-crown winner in 45 years, the reigning AL MVP and one of the marquee free-agent signings of the winter, it's easy for Jackson to get short shrift. If he keeps it up, though, the plaudits will surely follow.
But will he keep it up? In a remorseless game in which approach and technical nuance, while secondary to raw talent, can sharply divide successes and failures, can Jackson cling to the gains he's made? "I hope so," he said, smiling as though he knows so.
There's that word again. Right now, though, hope is what he took from the Yankees in the seventh inning of Game 4, and hope is what he's giving the Tigers and their partisans. He may be doing it in relative quiet, but know that Austin Jackson is doing it.
For more baseball news, rumors and analysis, follow @EyeOnBaseball on Twitter, subscribe to the RSS feed and"like" us on Facebook.