Barry Zito gets it done for Giants in Game 5: Quick hits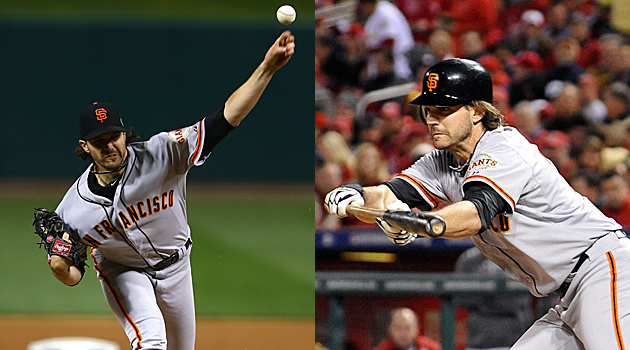 Zito got it done on the hill and at the plate in Game 5. (US Presswire)
ST. LOUIS -- The Giants are at it again. For the fourth time this postseason, San Francisco staved off elimination, beating the Cardinals 5-0 in Game 5 of the National League Championship Series to send the series back to AT&T Park.
Hero: Once again the Giants' season came down to Barry Zito. And unlike his start in Game 4 of the National League Division Series in Cincinnati where the Giants won in spite of Zito, this time they won because of Zito. Zito went 7 2/3 innings, allowing six hits and no runs, while striking out six and walking just one. In addition, he also drove in a run himself with a beautiful push bunt in the Giants' four-run fourth.
Goat: In his first full season in the majors, Lance Lynn had an outstanding season. However, his postseason has been a little less impressive. Lynn was used out of the bullpen in the wild card game and the NLDS, before starting Games 1 and Game 5 of the NLCS. In both of those games, Lynn cruised through the first three innings before giving up four runs in the fourth. On Friday, Lynn's own throwing error -- a throw off the second base bag -- in the fourth inning allowed the Giants' first run to score. With a good throw, the Cardinals turn two and get out of the inning. With his throw, the Giants went on to score four (unearned) runs and he didn't finish the inning. And then there's also…
Turning point: Bruce Bochy made a bold move, intentionally walking Pete Kozma to load the bases with one out in the second, but Zito got Lynn to bounce into a double play, ending what would be the Cardinals' best shot at scoring off of the left-hander.
It was over when: Pablo Sandoval led off the eighth with a solo home run. Until that point, the Cardinals and their potent offense was still in grand slam range and Zito was still on the mound, so a comeback wasn't inconceivable. But with another late home run, Sandoval killed the hopes of the Busch Stadium faithful who came to the ballpark expecting to celebrate a trip to the World Series.
Next: The series heads back to San Francisco with Ryan Vogelsong of the Giants taking on the Cardinals' Chris Carpenter at AT&T Park on Sunday.
For more baseball news, rumors and analysis, follow @EyeOnBaseball on Twitter, subscribe to the RSS feed and "like" us on Facebook.