NLCS Game 6: Familiar lineups, serviceable weather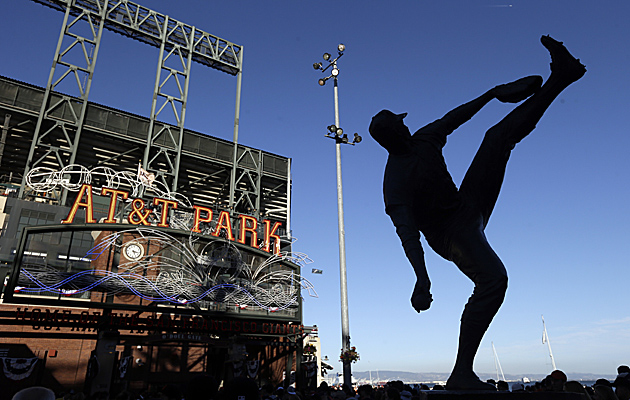 The Juan Marichal statue outside AT&T Park, the setting of Game 6 of the NLCS. (AP)
Game 6 of the National League Championship Series will take place 7:37 p.m. ET/4:37 p.m. PT in San Francisco between the Giants and the Cardinals.
Here's how the home Giants will play Game 6:
1. Angel Pagan, CF
2. Marco Scutaro, 2B
3. Pablo Sandoval, 3B
4. Buster Posey, C
5. Hunter Pence, RF
6. Brandon Belt, 1B
7. Gregor Blanco, LF
8. Brandon Crawford, SS
9. Ryan Vogelsong, SP
And for the visiting Cardinals:
1. Jon Jay, CF
2. Matt Carpenter 1B
3. Carlos Beltran, RF
4. Allen Craig, LF
5. Yadier Molina, C
6. David Freese, 3B
7. Daniel Descalso, 2B
8. Pete Kozma, SS
9. Chris Carpenter, SP
As Danny Knobler of CBSSports.com noted, Matt Holliday was scratched from the lineup with back stiffness.
As for the weather, it looks like it'll be a serviceable night for baseball. According to the weather.com hourly forecast, we're looking at high 50s with slight wind, partly cloudy and a very low chance of rain throughout the game. So nothing that will affect the game much, but not really worthy of being called beautiful or something similar.
Also of note: Giants manager Bruce Bochy said in his pregame press conference that starters Tim Lincecum and Madison Bumgarner would both be available out of the bullpen, with Lincecum likely to be used before Bumgarner.
For more baseball news, rumors and analysis, follow @EyeOnBaseball on Twitter, subscribe to the RSS feed and "like" us on Facebook.