Grading NLCS Game 6: Marco Scutaro strikes again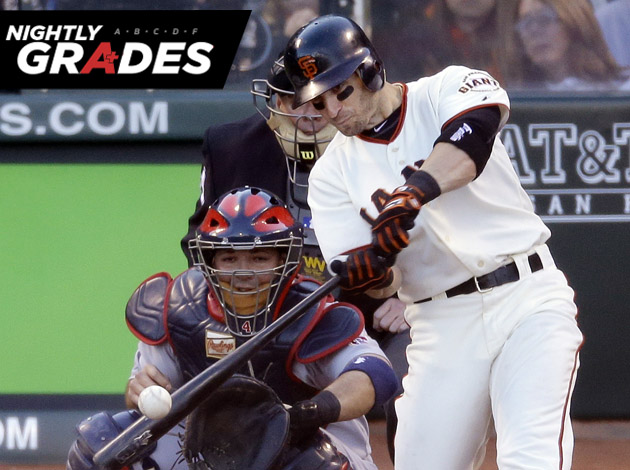 Scutaro continues to swing a hot bat this series. (AP)
Full Playoffs Schedule | Quick Hits: Vogelsong masterful as Giants force game 7
First Barry Zito and now Ryan Vogelsong, the Giants once again delivered with their backs against the wall, winning their fifth elimination game this postseason. The Giants won three straight in Cincinnati to advance to the National League Championship Series and have won two on the brink of elimination in the NLCS. One thing's for sure, the winner of Monday's Game 7 welcomes the Detroit Tigers for Game 1 of the World Series on Wednesday.
Marco Scutaro: If the Giants win Game 7, San Francisco second baseman Marco Scutaro would be the favorite to take home the NLCS MVP. Since Matt Holliday took him out in the first inning of Game 2, Scutaro is 9 for 19 and has two hits in four of the five games, including a 2-for-3 performance on Sunday. His second-inning double drove in two, making it 4-0.
Bullpens: This series has been decided by the two starting pitchers in each game, because the game is more or less over once it gets to the bullpens. The Giants bullpen has a 2.35 ERA in 15 1/3 innings this series, while the Cardinals' have a 2.25 ERA in 24 innings. St. Louis relievers combined to throw four innings in Game 6, allowing a run on four hits. The Giants only needed two scoreless innings from three different relievers to preserve Ryan Vogelsong's gem.
Buster Posey: What does it say about Posey's NLCS that his biggest contribution to the series has been a ground-out? At least with that ground out, he drove in the Giants' first run of the game on Sunday. That's more than he's done for most of this series. He's hitting just .136/.240/.136 in the six games of the NLCS with no extra-base hits.
Mike Matheny: Matheny took a big gamble in the second inning choosing to walk Brandon Crawford in order to get to Vogelsong with one out and runners on the corners. Perhaps he had Bruce Bochy's similar gambit from Game 5 fresh in his mind, but unlike St. Louis' Lance Lynn in the last game, Vogelsong didn't hit into a double play. Instead, shortstop Pete Kozma, well… we'll save that for the next one. Anyway, Matheny took heat on Twitter for not pulling starter Chris Carpenter after the Giants took a 5-0 lead after two innings and Carpenter's spot coming to the plate in the third inning. Carpenter rewarded his manager's faith by recording two scoreless innings, helping preserve the bullpen a little for Game 7.
Cardinals defense: With runners on the corners and one out in the second inning, Vogelsong hit a chopper to Kozma, who couldn't come up with the ball. That allowed Brandon Belt to score easily (he would have likely scored anyway) and paved the way for Scutaro's two-run double that gave San Francisco a 4-0 lead. That inning started out with Belt's triple, a ball that Carlos Beltran struggled to field off the right-field wall, and the scoring ended on a Sandoval single past a diving Daniel Descalso. The Cardinals have allowed 10 unearned runs in this series, an NLCS record.
For more baseball news, rumors and analysis, follow @EyeOnBaseball on Twitter, subscribe to the RSS feed and "like" us on Facebook.