NLCS Giants-Cardinals Game 7 preview: Matt Cain vs. Kyle Lohse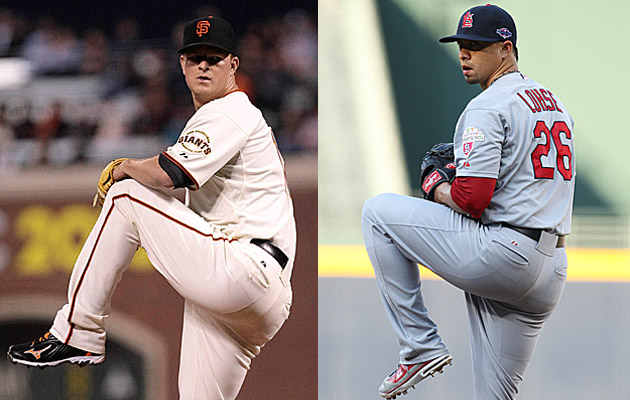 It's Cain vs. Lohse in Game 7. (US Presswire)
The National League Championship Series will come down to Kyle Lohse and Matt Cain, the Cardinals' and Giants' best pitchers during the regular season. Lohse defeated Cain in Game 3, but both teams enter Monday's Game 7 with plenty of confidence in their starter.
Lohse, who was 16-3 with a 2.86 ERA during the regular season, has started three playoff games this postseason and the Cardinals have won all three of his starts, including the wild card game against the Braves. He's 2-0 with a 1.96 ERA in those three starts.
Cain was 16-5 with a 2.79 ERA during the regular, but is 1-2 with a 4.67 ERA in three starts in the playoffs.
More playoff coverage
NLCS: Cardinals vs. Giants
ALCS: Tigers vs. Yankees
Cain vs. the Cardinals
Matt Cain really only made one bad pitch in his Game 3 start, but that bad pitch was crushed by Matt Carpenter for a two-run home run, good enough for a 3-1 Cardinals victory.
During the regular season, Cain was 1-1 with a 6.94 ERA in two starts against St. Louis this season, giving up five runs on eight hits in 5 2/3 innings in a loss at Busch Stadium on Aug. 6. He beat the Cardinals on May 17 at AT&T Park, where Cain was 8-3 with a 2.03 ERA this season.
Cain has the most experience against former Rockie Matt Holliday, who is hitting just .186/.260/.419 in 50 plate appearances in his career against Cain. Holliday, who missed Game 6 with a back issue, was hitless against Cain in Game 3. However, of Holliday's eight career hits against Cain, three were home runs. Carlos Beltran has also homered against Cain, and his .368/.429/.737 line in 24 plate appearances is among the best lines by any Cardinal. In Game 3, Beltran left after one inning, and was replaced by Carpenter. Not only did Carpenter homer off of Cain in these playoffs, he has five hits in six career at-bats against him.
Lohse vs. the Giants
Game 3 was the first time this season Lohse had faced San Francisco. He allowed seven hits and walked five in 5 2/3 innings, but the Giants couldn't get the big hit against him, as he left allowing just one run.
In his career, Lohse has made just four starts at AT&T Park, going 3-1 with a 3.42 ERA. His last start there was in 2011, when he allowed just one run on five hits in eight innings.
Of current Giants, Lohse has faced Hunter Pence the most. Pence is hitting .280/.308/.360 in 52 plate appearances against Lohse, but was hitless against him in Game 3. Marco Scutaro is 5 for 18 against him and had a double off of him in Game 3. Meanwhile, Buster Posey had never faced him before this series and walked twice in three plate appearances last week. No current Giant has hit a home run off of Lohse.
For more baseball news, rumors and analysis, follow @EyeOnBaseball on Twitter, subscribe to the RSS feed and "like" us on Facebook.