World Series Game 2 preview: Madison Bumgarner vs. Doug Fister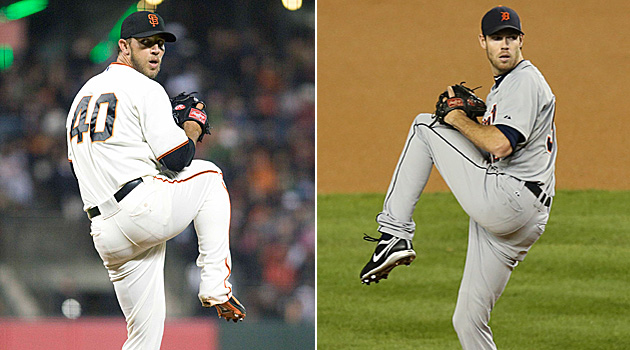 It's Bumgarner vs. Fister in Game 2. (US Presswire)
SAN FRANCISCO -- The Giants took a 1-0 lead with a blowout victory in Game 1 of the 2012 World Series. But that's all over with as we move to Thursday. It's time to focus on Game 2 and our pitching matchup has lots of height. It's 6-foot-5 Madison Bumgarner for the Giants against 6-foot-8 Doug Fister of the Tigers.
An interesting sub-plot? Fister was born and raised in Merced, California. He also went to Fresno State. And ...
"Growing up, don't tell anybody, I was a Giants fan, and being able to come to a couple games when I was little, it's always been a dream and a goal for me [to pitch in the World Series], and now it's happening," Fister said before Game 1. "It's definitely special being able to come into the ballpark and play in a World Series is something that obviously is a moment that will never be forgotten. It holds a little bit more special place in my heart, I would say, but it doesn't change what we do on the field."
Anyway, let's break it down.
More Tigers-Giants coverage
More World Series Coverage
Bumgarner vs. Tigers
The young lefty pitches better at home -- as one would expect in this pitcher-friendly park -- but not ridiculously so. In his career, Bumgarner has a 3.08 ERA and 1.17 WHIP at home while he's posted a 3.32 ERA and 1.21 WHIP on the road.
He has, however, badly struggled this postseason. In two starts, Bumgarner has coughed up 10 runs on 15 hits in eight innings. He hasn't appeared in a game since losing Game 1 of the NLCS, either. During that layoff, Bumgarner believes he and pitching coach Dave Righetti have worked out his issues.
"I just want to go out there and try to keep us in the game and do a good job," Bumgarner said before Game 1. "I haven't done that yet this postseason. It would be nice to go out there and throw better for us. Like I said, we've been working hard, and I think we've got everything ironed out. We'll just see tomorrow. Just got to go out and compete."
Bumgarner has only faced the Tigers one time in his career, and he was brilliant. On July 1, 2011, Bumgarner held the Tigers to one run on five hits in 7 1/3 innings while striking out nine.
On the flip-side, the current individual Tigers players have had great success against Bumgarner, albeit without power. Current Tigers have hit .323/.382/.323 off Bumgarner. It's a pretty small sample, as only two Tigers have more than three plate appearances in their career against Bumgarner. Prince Fielder is 3-for-10 and Omar Infante is 3-for-9.
Fister vs. Giants
Fister's a bit worse on the road than at home, but -- much like Bumgarner's splits -- it's not a huge divide. This season, Fister had a 3.21 ERA and 1.13 WHIP at home and sported a 3.70 ERA and 1.26 WHIP on the road.
Take note of Fister's above quote that he grew up a Giants fan. Well, pile on the intrigue, because he has not faced the Giants in his entire career.
In fact, Fister is very unfamiliar with these Giants, and vice versa, obviously. The only member of the current Giants roster who has ever dug in the batter's box against Fister is Marco Scutaro. In 13 career plate appearances, Scutaro has hit .091/.231/.091 against Fister.
Also of note here is Fister has been pitching extremely well for a while. He was 8-4 with a 2.67 ERA after the All-Star break in the regular season and it carried over into the playoffs. In two postseason starts, Fister has only allowed 12 hits and two earned runs in 13 1/3 innings while striking out 13.
So, in taking everything in, it appears the Tigers have the advantage here on paper with this pitching matchup. Just keep in mind, they had a huge advantage on paper with the pitching matchup in Game 1 and got dominated by the Giants.
For more baseball news, rumors and analysis, follow @EyeOnBaseball on Twitter, subscribe to the RSS feed and "like" us on Facebook.