Doug Fister takes line drive off head, stays in game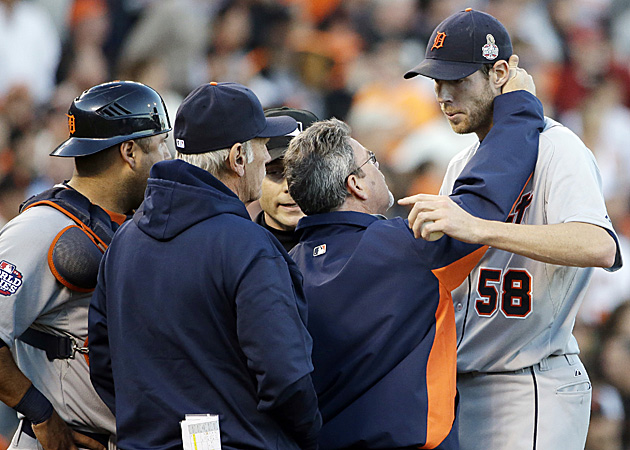 Fister gets checked on after taking a rocket off his head. (AP)
SAN FRANCISCO -- Tigers starting pitcher Doug Fister is one tough SOB. He just took a line drive off his head and stayed in the game.
More Tigers-Giants coverage
More World Series Coverage
With two out and Buster Posey on first base in the second inning Thursday night in Game 2 of the World Series, Giants left fielder Gregor Blanco hit an absolute rocket right back up the middle. Fister attempted to get his glove up and protect himself, but there just wasn't enough time. The ball hit Fister's head and propelled into center field for a base hit, but obviously the focus immediately turned to Fister's well-being.
After a few short minutes of meeting with Tigers manager Jim Leyland, umpires and an athletic trainer, Fister took a few warmup pitches and confirmed that he felt OK to continue. And stay in the game he did.
Fister then walked Brandon Crawford to load the bases but coaxed a popout off the bat of Giants pitcher Madison Bumgarner to end the inning.
Seeing a line drive off the head of a pitcher brought back the scary memories of A's pitcher Brandon McCarthy, who was hit in the head by a liner on Sept. 5 and subsequently needed to undergo emergency surgery to due to an epidural hemmorhage, a brain contusion, and a skull fracture.
At least initially, it appears Fister was lucky to avoid such serious injuries.
For more baseball news, rumors and analysis, follow @EyeOnBaseball on Twitter, subscribe to the RSS feed and "like" us on Facebook.