Giants take Game 3, push Tigers to brink: Quick hits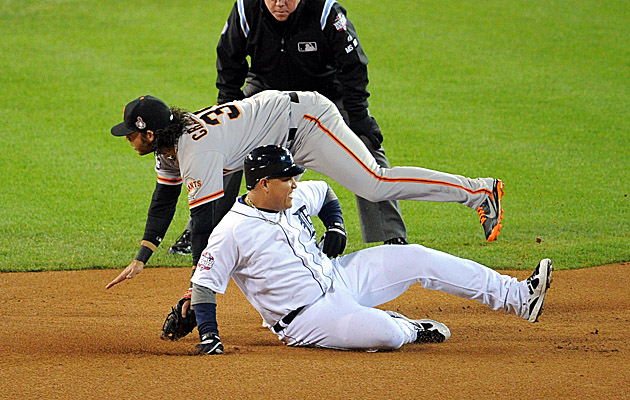 Crawford and the Giants D got it done again. (US Presswire)
DETROIT -- The Giants did it again. They never trailed, beating the Tigers 2-0 to take a three-games-to-zero lead in the best-of-seven World Series. The series most certainly isn't over, but it's a menacing lead for San Francisco.
More Tigers-Giants coverage
More World Series Coverage
Hero: Could go Ryan Vogelsong, but he allowed five hits and four walks in 5 2/3 innings. He was certainly good, there's no doubting that, but I don't know if that's a hero line. Tim Lincecum was outstanding, too, but I'm going with the Giants' collective defense here. Brandon Crawford made two incredibly quick turns during pivotal double plays, later made a diving play up the middle, Pablo Sandoval made a few solid plays, Gregor Blanco flashed his range in the ninth and this group is just all-around a defensive machine at times -- Crawford's eighth-inning error notwithstanding, of course, and it didn't cost them anything.
Goat: The Tigers' offense, collectively, and their inability to make anything happen with runners on base. They got 11 guys on base. None scored. Only one reached third, while the Tigers hit into two double plays. In the fifth inning, they had the bases loaded and only one out with their 2-3 hitters coming up, only to strikeout and then pop out.
Turning point: Gregor Blanco's RBI triple to open the scoring in the second. The Tigers and their fans were excited to come back home, where the Tigers were 33-11 after July 4. Blanco's triple gave off kind of a "more of the same" vibe and set the tone for another Giants victory.
It was over when: Miguel Cabrera's pop up to leave the bases loaded in the fifth inning was a pretty deflating moment to be sure, but the Tigers still trailed the majority of the game by only two runs. A walk and a bomb tie it up. So while they seemed like offensive zombies the rest of the way, we're saying it was over when it was literally over: Out No. 27, recorded by Giants closer Sergio Romo.
Next: We'll do it again Sunday in Detroit, where Game 4 will played in the underrated Comerica Park at 8:07 p.m. ET/5:07 p.m. PT. The pitching matchup: Matt Cain vs. Max Scherzer.
For more baseball news, rumors and analysis, follow @EyeOnBaseball on Twitter, subscribe to the RSS feed and "like" us on Facebook.