World Series Game 4 lineups: Ryan Theriot at DH?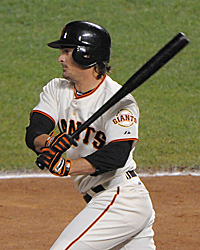 Theriot is the mighty DH in Game 4. (US Presswire)
DETROIT -- The Giants lead the World Series 3-0 with Game 4 set for 8:07 p.m. ET/5:07 p.m. PT Sunday. The lineups are out, and one thing in particular stood out to me: Ryan Theriot is the Giants' designated hitter.
Theriot had a .321 slugging percentage with zero homers during the regular season, so he's the polar opposite of a traditional DH. And the funny thing is, everything Giants manager Bruce Bochy has done this series has worked out, so seeing Theriot collect an extra-base hit wouldn't even be remotely surprising.
Anyway, the lineups.
1. Angel Pagan, CF
2. Marco Scutaro, 2B
3. Pablo Sandoval, 3B
4. Buster Posey, C
5. Hunter Pence, RF
6. Brandon Belt, 1B
7. Gregor Blanco, LF
8. Ryan Theriot, DH
9. Brandon Crawford, SS
SP: Matt Cain, RHP
1. Austin Jackson, CF
2. Quintin Berry, LF
3. Miguel Cabrera, 3B
4. Prince Fielder, 1B
5. Delmon Young, DH
6. Andy Dirks, RF
7. Jhonny Peralta, SS
8. Omar Infante, 2B
9. Gerald Laird, C
SP: Max Scherzer, RHP
For more baseball news, rumors and analysis, follow @EyeOnBaseball on Twitter, subscribe to the RSS feed and "like" us on Facebook.