Clayton Kershaw wins 2012 Roberto Clemente Award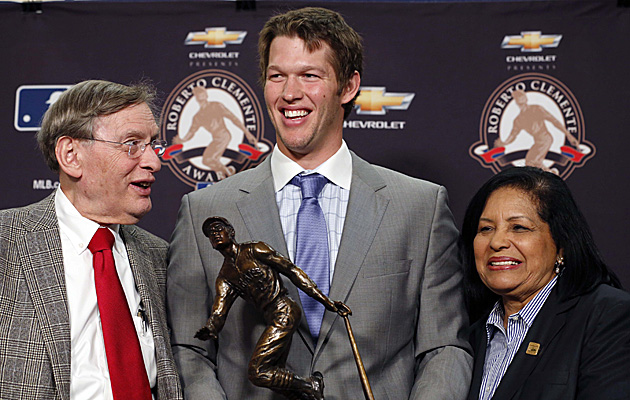 Clayton Kershaw, winner of the 2012 Roberto Clemente Award, pictured alongside Bud Selig and Vera Clemente. (US Presswire)
DETROIT -- Dodgers starting pitcher Clayton Kershaw has won the 2012 MLB Roberto Clemente Award, it was revealed Sunday evening in Comerica Park during a press conference. MLB commissioner Bud Selig and Vera Clemente, Roberto's widow made the official announcement.
"It is an incredible honor to receive this award," said Kershaw. "Just being associated with someone like Roberto Clemente is truly humbling and I am extremely grateful."
The Roberto Clemente Award recognizes the player "who best represents the game of baseball through positive contributions on and off the field, including sportsmanship and community involvement." The award is named after Hall of Fame outfielder Roberto Clemente, who died in a plane crash in 1972 while attempting to deliver supplies to earthquake victims in Nicaragua.
We know about Kershaw's on-field track record, which is that he won the 2011 NL Cy Young Award and again led the majors in ERA (2.53) this season. He also sported the best WHIP in the NL and struck out 229 hitters in 227 2/3 innings.
As far as off-the-field activities, here is how Kershaw secured the award, via MLB press release:
Clayton Kershaw and his wife, Ellen, founded Kershaw's Challenge, a charitable organization that encourages people to make a difference by giving back to at-risk children and communities in need. The charity has provided assistance to a variety of organizations, including to its cornerstone charity, "Arise Africa," which is helping the Kershaws build and sustain an orphanage for children in Lusaka, Zambia called "Hope's Home." In addition to providing a safe haven for orphans, Kershaw's Challenge also seeks to create an emergency fund for the children, many of whom suffer from diseases and infections related to HIV and AIDS. Each year, Kershaw and his wife travel to the orphanage to visit with the children and bring awareness to this issue. He has also co-written a book with Ellen, released in January 2012, entitled, "Arise: Live Out Your Faith and Dreams on Whatever Field You Find Yourself," which is about their life together and trips to Africa. Money raised from the book's proceeds goes directly to Kershaw's Challenge for Hope's Home. In addition to Hope's Home, Kershaw's Challenge has also supported the Peacock Foundation in Los Angeles, which provides animal-assisted interventions and activities for at-risk youth by partnering with mental health practitioners, public service agencies, and community organizations. Kershaw's Challenge is also involved with Mercy Street in his hometown of Dallas, Texas, which provides mentoring, sports and recreation, vocational and educational opportunities to young people in at-risk communities. Kershaw has participated in numerous Dodgers' community initiatives such as the offseason Community Caravan, a Habitat for Humanity Build, the distribution of back packs and school supplies to 1,000 underserved children and the annual Dodgers Dream Foundation Youth Baseball Camp.
"I am happy to congratulate Clayton Kershaw on being named the recipient of this year's Roberto Clemente Award," said Vera Clemente. "The work that this young man has accomplished to help youth around the world is wonderful, and we are proud to welcome him among the many players who have carried on Roberto's legacy."
The first winner of the award in 1971 was Willie Mays -- at the time it was called the Commissioner's Award. In 1973, the award renamed to honor Clemente. Fifteen current Hall of Famers have won the award and a few more -- Derek Jeter, Albert Pujols, Craig Biggio, to name three -- are headed that way. David Ortiz won the award last season.
For more baseball news, rumors and analysis, follow @EyeOnBaseball on Twitter, subscribe to the RSS feed and "like" us on Facebook.