Giants sweep Tigers, win World Series: Quick hits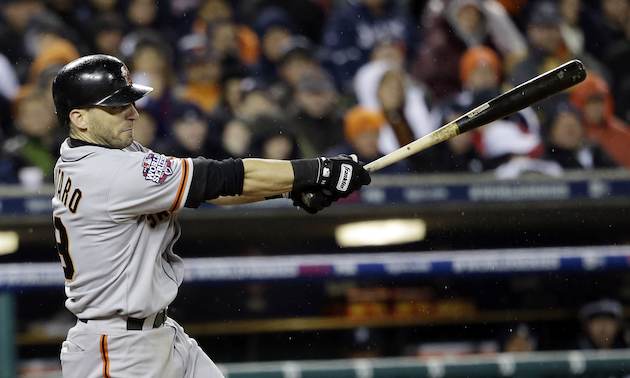 Marco Scutaro came through once again. (AP)
DETROIT -- The San Francisco Giants are the World Series champions. They beat the Tigers, 4-3 in 10 innings, Sunday, meaning they swept the Tigers in four games on the best-of-seven 2012 World Series.
More Tigers-Giants coverage
More World Series Coverage
Hero: Once again, Marco Scutaro came through with a clutch hit. In the top of the 10th inning, Scutaro lined a Phil Coke pitch into center field, plating Ryan Theriot and giving the Giants a 4-3 lead. Scutaro wasn't alone, as several Giants -- Buster Posey, Brandon Belt, Brandon Crawford on defense, Matt Cain, Jeremy Affeldt and more -- stepped up with big plays. But Scutaro got the hit that will go down in history.
Goat: It's tough to go with Phil Coke here, considering he'd been so great for the Tigers this postseason, but he did cough up the Theriot single to lead off the 10th and then later the Scutaro single that eventually lost the game for the Tigers. Each World Series game is a series of small samples, so Coke takes this one on the chin, unfortunately.
Turning point: Scutaro's single. The Giants had a 46.7 percent chance of winning, per Fangraphs.com, before that single. After? It went up to 82.6 percent.
It was over when: Well, we're talking about a one-run game that ended in 10 innings. This category is pretty well unneeded, but I'll stick with the format and again note it was over when Sergio Romo recorded the final -- this time 30th -- Tigers out.
Next: We're done. The Giants are the World Series champions for the second time in three seasons. We'll be covering game action for you next season, but until then, we'll have tons of fun offseason content on Eye on Baseball. We thank you, our loyal readers, for following our work during the wonderful 2012 season. It was a pleasure.
For more baseball news, rumors and analysis, follow @EyeOnBaseball on Twitter, subscribe to the RSS feed and "like" us on Facebook.