Jeremy Affeldt one of many postseason heroes for Giants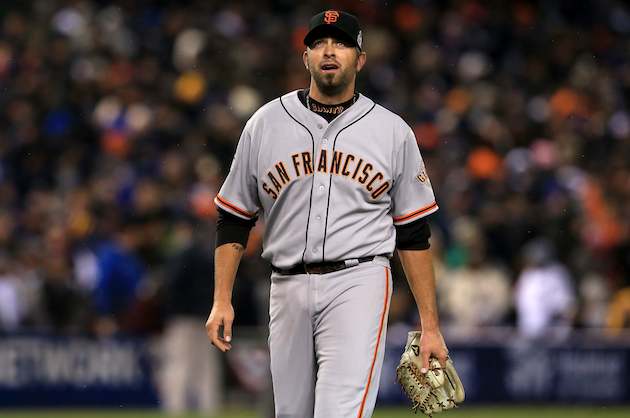 Giants left-hander Jeremy Affeldt struck out four of the six batters he faced in Game 4. (Getty Images)
DETROIT -- One of the many unsung heroes in the Giants' World Series sweep of the Tigers is left-handed reliever Jeremy Affeldt. Not only did the veteran work 1 2/3 all-important innings in the 4-3, 10-inning Game 4 Giants win, but he sliced through the middle of the Tigers' powerful offense in one of the most pivotal parts of Game 4.
With the scored tied, Affeldt walked Avisail Garcia to start the eighth inning. Evidently he just wanted to challenge himself, because Affeldt proceeded to strike out triple crown winner Miguel Cabrera ... then elite power hitter Prince Fielder ... then postseason home-run machine Delmon Young. Affeldt then opened the ninth inning by striking out Andy Dirks. He'd get a flyout off the bat of Jhonny Peralta before departing.
More Tigers-Giants coverage
More World Series Coverage
So in 1 2/3 innings, Affeldt recorded four strikeouts while allowing no one past first base, even though he was facing the meat of the Tigers' order late in a tie game. Still, the back-to-back-to-back K's of Cabrera, Fielder and Young were most impressive.
The overall result wasn't altogether shocking, considering how hot Affeldt has been of late. During the postseason, he threw 10 1/3 innings, allowing only five hits, three walks (one was intentional) and nary an earned run. He struck out 10.
The funny thing is, Affeldt did it all through yet another weird injury. He seems to be a magnet for those -- remember the sliced hand as he was separating frozen hamburgers with a sharp knife, or perhaps hurting his knee while hugging his son? Then, in Game 5 of the NLDS against the Reds, a hard foul ball into the Giants' dugout sent Affeldt to the ground to avoid being struck, bracing himself with his left hand and jamming it. And yet, he still continued to thrive in the postseason.
"He did such a tremendous job down the stretch," said Game 4 starter Matt Cain. "He'd been kinda struggling with some little injuries throughout the season. It was kinda odd, it seemed like him getting oddly hurt in Cincinnati kind of benefitted him a little bit."
And while Affeldt was good before the injury, Cain is kind of right. Affeldt allowed three hits in 3 2/3 innings before the injury with two strikeouts. After, he only gave up two hits in 6 2/3 innings with eight strikeouts. Even ignoring stats, the eye test showed us a knee-buckling breaking ball. Cain agreed.
"He went out there with unbelievable stuff with the sinker/slider combo."
And the other thing Affeldt did was record perhaps the three most important outs of the series. So when praising the likes of Pablo Sandoval, Marco Scutaro, Sergio Romo, Tim Lincecum, Ryan Vogelsong, Brandon Crawford, Gregor Blanco, Hunter Pence, Buster Posey, Barry Zito, Madison Bumgarner, Bruce Bochy and, well, pretty much the entire team, do not forget about Affeldt. He was integral.
For more baseball news, rumors and analysis, follow @EyeOnBaseball on Twitter, subscribe to the RSS feed and "like" us on Facebook.