Buster Posey: Quiet difference-maker in Game 4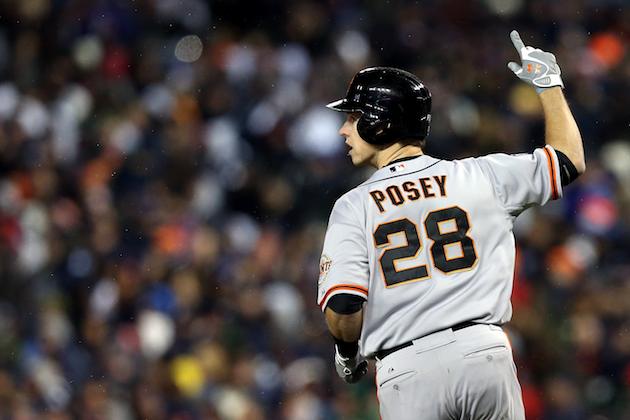 Buster Posey's sixth-inning home run gave San Francisco a 3-2 lead in Game 4. (Getty Images)
DETROIT -- The late innings of Game 4 made it easy to forget Buster Posey's role in helping things along. After Miguel Cabrera's go-ahead, roused-from-sleep blast and Jeremy Affeldt's shutdown dominance and Ryan Theriot's table-setting and Marco Scutaro's latest example of defied expectations and Sergio Romo's authoritative last page, what else could there have been?
There was Posey's sixth-inning, two-run spank that turned a 2-1 Giants deficit into a 3-2 Giants lead, of course. Posey timed a second-pitch changeup from Max Scherzer and wrapped it deep around the left-field foul pole ...
In cold, mathematical terms, Posey's clout raised San Fran's chances of winning the game (and, by extension, the series) from 34.2% to 63.7%. In other words, he made, with one swing, a determinative difference.
It's been that way all year, of course. Posey, with good cause, is considered the favorite to win NL MVP honors. He's a catcher who hits like a middle-of-the-order first baseman, and players who put up "corner" numbers while manning an up-the-middle position are indeed valuable commodities. Of course, Posey is as much at the mere age of 25. His precociousness -- and his excellence -- isn't lost on his manager. "This guy's an incredible talent," said Bruce Bochy after Game 4. "His makeup is off the chart. He's, to me, the MVP, no question and we know how he carried us all year with the bat, but I think as important as the bat is what he did behind the plate in the postseason."
What's also impressive is that Posey's clutch blast came despite recent struggles. In the NLCS triumph over the Cardinals, he authored an OPS of just .424. When he strode to the plate in the sixth inning of Game 4, he was hitting .214/.286/.214. That's the function of a small sample size, to be sure, but it adds to the story.
For Bochy, Posey's resilience is hardly surprising."He's special. For him to come back off that injury, it shows you how tough he is and what a special talent this guy is."
It's tempting to say that his one swing in Game 4 proved all of that. In reality, though, it merely reaffirmed it. We already knew Buster Posey was something special.
For more baseball news, rumors and analysis, follow @EyeOnBaseball on Twitter, subscribe to the RSS feed and"like" us on Facebook.