MLB's top free agents: Where are they going?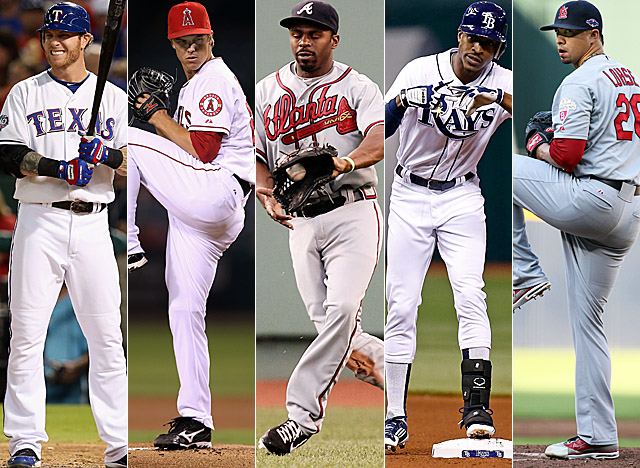 So, where are all these guys going? (Getty Images)
As you might have noticed, free agency is upon us. What lies ahead for the the most coveted of those free agents? That remains to be seen. We can, however, provide opinions -- expert opinions, it so happens -- on how the market will play out.
Here's how it works ... Our senior writers -- Jon Heyman, Danny Knobler and Scott Miller -- teamed up with bloggers Matt Snyder, C. Trent Rosecrans and Dayn Perry to make educated guesses about where our top-five free agents -- Josh Hamilton, Zack Greinke, Michael Bourn, B.J. Upton and Kyle Lohse -- will sign in the days and weeks to come.
First, a visual representation ...
Free Agent Predictions
Player
Heyman
Knobler
Miller
Snyder
Perry
Rosecrans
Josh Hamilton
Zack Greinke
Michael Bourn
B.J. Upton
Kyle Lohse
And now, the justifications ...
Josh Hamilton
Heyman: "Brewers. GM Doug Melvin can joke all he wants about Milwaukee needing the U.S. Bank to sign Hamilton. But at this point, they are the one team known to have a keen interest in signing the slugging outfielder. Others may emerge, as Hamilton is undeniably talented. But the Crew has at least cleared the first hurdle or aren't worrying too much about Hamilton's addiction history. They figure having his original 'life coach,' Johnny Narron, as their hitting coach is a plus, as is their nice, low-key locale. Milwaukee owner Mark Attanasio has tried to make some significant buys, though he came up well short in the cases of CC Sabathia and his own Prince Fielder. He may fall short again, but to this point there's no big-market team known to be in the fray. The Braves are another team that's at least talked it over, but their concern seems to be that they are already pretty left-handed. Milwaukee doesn't have that concern. Beyond that, what they need most is pitching. Hamilton seems to be a fit in Milwaukee.
Knobler: "Orioles. They need to capitalize on a breakthrough year. With the fans back involved and attendance up, they should be willing to spend. Most of the usual big spenders (Yankees, Dodgers, Angels, Tigers) don't seem interested. Plus, Camden Yards may bring back good memories -- because that's where Hamilton hit four home runs in a game last May."
Miller: "Brewers. Lots of people can use his bat, lots of teams could get in a whole heap o' trouble by committing too much of their payroll to a player whose body has been through the ravages of addiction and injuries. The Rangers will make a serious run at him, but they also know better than anyone the nurturing and babysitting he needs, not to mention how his tremendous hot streaks come with the most frigid of cold streaks. If Milwaukee is aggressive, Brewers coach hitting coach Johnny Narron, who was Hamilton's confidante in both Cincinnati and Texas, could be a major tie-breaker as Josh makes his decision."
Snyder: "Tigers. Mike Ilitch wants a title, and he's going to spend until he gets it. Getting back Victor Martinez and slotting Josh Hamilton in left field may do the trick, so the Tigers will overpay for Hamilton's services. Sure, they haven't seemed to show much interest just yet, but where were they on Prince Fielder until they actually signed him?"
Rosecrans: "Rockies. This is my out-there prediction. Nobody has the Rockies as a possibility, but there's one big reason it's a fit -- and it has nothing to do with Hamilton's gifts on the field, or at least very little. Hamilton has never shied from spreading his faith or talking about it. Rockies owner Charlie Montford and GM Dan O'Dowd have both openly talked about their faith and once reportedly had a "Christian-based code of conduct" for the team. Hamilton has said he would let God choose his next team, and the Rockies may just be speaking the right language."
Perry: "Tigers. First, there's a need for more production from the outfield corners, and Detroit is very much in 'win now' mode. Also, GM Dave Dombroswki has a recent history of making bold plays on the free-agent market. Additionallly, owner Mike Ilitch seems to have a flexible budget, and he's absolutely gunning for the belt and the title. Imagine that lineup."
Zack Greinke
Heyman: "Dodgers. It's nice the Angels cleared out some serious salary to make a run at Greinke, and conventional wisdom says the right-hander stay. It's been said the Angels, Braves and Cardinals are perhaps Greinke's top choices. And with the Cardinals pretty well set for starters and the Braves (perhaps the best match for Greinke) probably unwilling to outbid the two LA teams, that should leave the two teams on I-5 as the most logical landing spots. Angels owner Arte Moreno will not want to be outbid by the Dodgers, but I'll take the team with unlimited resources in a close call here."
Knobler: "Dodgers. Last winter, when the Angels signed Albert Pujols, a Dodgers official said, 'They're taking over LA.' The Dodgers tried to respond by signing Prince Fielder, but the timing wasn't really right. Now it is, and they can take away the free agent the Angels want most. No team is more willing to spend money, and no team is more willing to take a risk."
Miller: "Angels. With owner Arte Moreno having broken his long losing streak in free agency by signing Albert Pujols and C.J. Wilson last winter, look for another triumph with Greinke. The Angels traded Ervin Santana and are allowing Dan Haren to walk to free up some money that will be earmarked for Greinke. The Dodgers, Red Sox and Yankees all could be major players [don't forget Allard Baird, special assistant to GM Ben Cherington in Boston, is the former Royals GM and remains close to Greinke]. The Angels only hope this turns out differently than what happened with Mark Teixeira, when they acquired him midseason from the Braves and thought they'd have home-field advantage in signing him, before the Yanks swooped in."
Snyder: "Angels. After trading Ervin Santana and declining Haren's option, the Angels shouldn't be held back by any financial constraints, so it's only a matter of meeting Greinke's asking price. We've seen what the Angels can spend when motivated [Pujols last winter]. And they'll be incredibly motivated here, so that shouldn't be a problem."
Rosecrans: "Dodgers. In any bidding war, you have to favor those with the deepest pockets. Add to that the excitement of the Dodgers' ownership group over its shiny new toy, and you better believe they're going to go full-bore after the top free agents. The outfield is already full, so don't expect them to go after Hamilton -- meaning Greinke will be the team's top target. For Greinke, what's the difference between the Angels and Dodgers? Money. And at this point, it's difficult to see anyone outbidding the Dodgers."
Perry: "Angels. By trading away Ervin Santana and attempting to deal Dan Haren [and subsequently buying out his option year], the Angels seem to be making room in the budget [and in the rotation] for Greinke on a long-term basis. I'm guessing they get what they want."
Michael Bourn
Heyman: "Nationals. Washington has been trying to get Bourn for years, and now he's finally free, giving them their best chance. Bryce Harper did fine in center field, but an outfield trio of Bourn flanked by Harper and Jayson Werth is undoubtedly a dream of Nats GM Mike Rizzo, who loves defense. He could move Michael Morse to first base to replace Adam LaRoche. Or if he can sign LaRoche as he hopes, he can trade Morse. Bourn's old Phillies team is interested, but the smart money says Rizzo is more likely to make a deal with Bourn's agent, Scott Boras, based on their close relationship going back to when Rizzo was a top scout in Arizona."
Knobler: "Phillies. The Nationals have long been the chalk in the Bourn derby, and they still could end up with him. But there are also strong voices in the organization who would like to see Bryce Harper stay in center field. The Phillies have the greater need right now."
Miller: "Braves. Atlanta would love to have him back and really can use him, especially with Chipper Jones now a retiree. As a free agent, Bourn will get lots of play -- the Phillies are very interested, and he could fit several other places too [San Francisco, Seattle, etc.]. It's said he'll be asking for $100 million, which will limit the pool initially. Hard to see where this one goes."
Snyder: "Braves. He's already a great fit atop the order and in the middle of that excellent outfield defense. The Braves are said to be desperate to keep him, so they'll find a way to get it done financially. And no, I don't believe he's getting nine figures."
Rosecrans: "Nationals. Mike Rizzo has coveted a center fielder, generally, for years, and Bourn, specifically. Unable to pry a trade for the speedy Bourn, Rizzo will finally get his man, giving the Nationals an impressive outfield of Jayson Werth, Bryce Harper and Bourn. Harper played well in center, but he projects more as a corner outfielder. Harper impressed, but more impressive is the thought of all three of those in the outfield, covering plenty of ground and making it one of the best outfields in baseball. And if the team can't re-sign Adam LaRoche, Michael Morse moves right over to first base."
Perry: "Phillies. The Phils still have a roster that can contend, and they've never been shy about adding payroll. Also, having dealt Shane Victorino, they need a new center fielder. Bourn's defense and base-running chops should appeal to GM Ruben Amaro. There's also the added bonus of plucking him from a division rival."
B.J. Upton
Heyman: "Phillies. Philly badly needs and wants a center fielder. And since I see Bourn going to the Nats, Upton is probably their second-best option. The others are Shane Victorino, a terrific talent whose time appeared up in Philly by the time he was traded away, and Angel Pagan. Upton, with both power and speed, could interest several teams, including the Mariners and maybe the Rangers, but the Phillies are the favorites."
Knobler: "Braves. They loved Bourn before they got him and even more when they had him. But the Bourn market will go beyond where they want to go in dollars and years. They like Hamilton, too, but will hesitate because their lineup is already so left-handed. Upton will end up as the best fit.
Miller: "Mariners. Seattle has to get some offense from somewhere. If Upton doesn't wind up in the Pacific Northwest, then the M's will have swung and missed again. This is the perfect time for the Mariners, backed by good pitching, to make a move in the winter. They're bringing the fences in at Safeco Field. The Athetics last summer lapped them in the AL West. The Angels and Rangers are way ahead of them. If the Mariners don't make a move now, attendance will continue to shrink and the franchise will continue to diminish."
Snyder: "Phillies. They're not rebuilding; they're reloading on the fly, and Upton's power will play exponentially better in Citizens Bank Park than it did in the Trop. Plus, we get the side storyline of Upton trying to compete with Ryan Howard in the strikeouts category [though he can't]."
Rosecrans: "Phillies. The Phillies have an opening in center field, they have money and they need players south of 30 -- Upton fits the bill. Upton is a good defensive outfielder and has pop from the right side. Although the knocks against him are that he's underperformed and has attitude problems -- two things that don't go over well in Philly -- he has enough talent to tempt any team. Moving from Tropicana Field to Citizens Bank Park should give him a chance to improve upon his career-high 28 home runs from 2012."
Perry: "Here's my surprise pick: Cubs. And here's why I think it makes sense. Upton figures to be the undervalued free agent of the winter. He's young as free agents go, he hits for power, runs the bases exceptionally well and is a Gold Glove-caliber center fielder. The Cubs have the budget and a need at the position [no, Tony Campana is not an adequate major-league regular]. Upton is also young enough that he could play an important part of the next relevant Cubs team."
Kyle Lohse
Heyman: "Dodgers. A big walk year in which he was consistently effective all season [and could have gone 22-0 considering the bullpen blew six leads, and his three defeats were all by one run] has folks wondering whether he could repeat C.J. Wilson's $77.5 million deal from a year ago. Like Wilson, Lohse has strung two terrific seasons together at the right time. While he's a few years older than Wilson, he also has shown to be a much better postseason performer. Plus, we can't forget Wilson could have gotten $99 million from the Marlins --- not to mention, the teams seem to be making more money than ever. Many clubs should be in the running here, but nobody it seems has more money than the Dodgers. It's hard to see anyone signing both Greinke and Lohse, but it'd be a surprise if they got neither."
Knobler: "Angels. They haven't been on the best of terms with agent Scott Boras. But if they lose Greinke to the Dodgers, no team will be more desperate. The Angels traded Ervin Santana, bought out Dan Haren and let Torii Hunter walk, freeing up money to chase Greinke. If they don't get him, they'll have that money, and they'll have a hole in the middle of their rotation."
Miller: "Dodgers. Start with Lohse's agent, Scott Boras. What that means is, Loshe ain't signing for some cut-rate price with just any club. The Dodgers need pitching, especially in their division, and with the Giants having won two World Series in three seasons. The Dodgers also have money, lots of it, or so Adrian Gonzalez, Josh Beckett, Shane Victorino, Clayton Kershaw and Co. tell us. Need + resources = results. If not the Dodgers, the Cubs, Blue Jays ... any number of other clubs should be involved in conversations with Boras. Heck, the Nationals and Tigers seem to speak with him every single day, so you never know."
Snyder: "Dodgers. They have to overpay for someone, right? We know they have tons of money to spend and need another top-flight arm. Unfortunately for the Dodgers, after missing out on Greinke, Lohse is their man. Grabbing Lohse would give the Dodgers a solid top three in the rotation with Clayton Kershaw, Lohse and Josh Beckett, but it's hardly '11 Phillies imposing."
Rosecrans: "Nationals. Washington wants to add a veteran pitcher, and their first call will likely go to Scott Boras, who seems to represent at least half the team. Boras has plenty of clients, but his top guy this offseason is Lohse, who seems like he'd be a natural fit for the Nationals. With Lohse, the Nationals' rotation is even more stout and the team could be an immediate favorite in the National League."
Perry: "Royals. Kansas City has a lineup capable of contending but badly needs help in the rotation. The Royals may not be able to lure the likes of Greinke or Anibal Sanchez to KC, but Lohse, at 34, will be seeking as much security as he can get on the market. I'm guessing a number of other possible suitors will doubt Lohse can repeat his 2012 performance, so the Royals will have an opportunity. I don't think it'll be a wise signing, but it'll be a signing."
So what do you say?
For more baseball news, rumors and analysis, follow @EyeOnBaseball on Twitter, subscribe to the RSS feed and"like" us on Facebook.