Team needs: National League East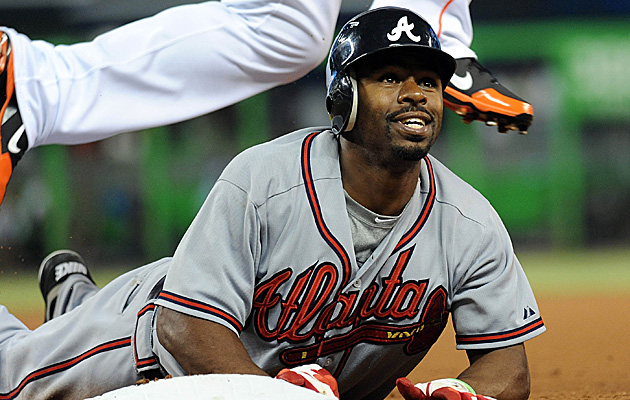 Bourn looks to be a hot commodity in this division. (US Presswire)
As we continue our series on looking through the offseason needs and possible fits for each team, we hit the NL East, where a certain center fielder appears to be on the radar for 60 percent of the division.
Despite getting bounced in the NLDS round by the Cardinals -- after being just one strike away from advancing -- the Nationals are very well set up for the future. Edwin Jackson's rotation spot needs to be addressed, as does the status of free-agent first baseman Adam LaRoche. In the case of the latter, if LaRoche walks, the Nats could move Michael Morse to first base, Bryce Harper to left field and sign a center fielder. Or the Nats could re-sign LaRoche, trade Morse, move Harper and sign a CF. Or they could just keep LaRoche and leave the lineup as it was. Otherwise, the defending division champs don't really need to do much.
Biggest needs: Starting pitcher, the aforementioned LaRoche/CF situation, left-handed reliever
Possible free agency targets: Michael Bourn, Adam LaRoche, Sean Burnett, Mike Gonzalez, Randy Choate, Jeremy Affeldt, Edwin Jackson, Kyle Lohse, Scott Baker, Ryan Dempster -- Zack Greinke?
Possible trade targets: Denard Span, Coco Crisp.
The Braves are coming off a very good regular season, but the team could look a bit different next season, with the retirement of Chipper Jones, moving Martin Prado to third base and center fielder Michael Bourn hitting free agency. Another item of concern has to be All-Star catcher Brian McCann's shoulder surgery, so some catching depth is needed.
Biggest needs: Outfielders, catching depth.
Possible free agency targets: Michael Bourn, Angel Pagan, Nick Swisher, Josh Hamilton, Cody Ross, David Ross, Kelly Shoppach, Gerald Laird. Kevin Youkilis (for third base, meaning Prado stays in LF)?
Possible trade targets: Denard Span. Josh Willingham.
After a five-season reign atop the division, the Phillies fell back to third place in 2012. Injuries were an issue, but this group is getting pretty old. Can they patch things up this offseason in reload fashion, which would avoid the ballclub needing a total rebuild? They're gonna try, that much is certain.
Biggest needs: Outfielders and a third-base upgrade.
Possible free agency targets: B.J. Upton, Michael Bourn, Angel Pagan, Shane Victorino, Kevin Youkilis.
Possible trade targets: Shin-Soo Choo, Josh Willingham, Coco Crisp, Peter Bourjos.
It didn't take long for the rumor mill to start churning for the Mets. Are they interested in trading Ike Davis and/or R.A. Dickey? Will they get an extension worked out with David Wright? We've already seen lots of reporting on those subjects (here's the latest from Heyman). From where things sit now, I'll estimate the Mets keep Davis, extend Wright and trade Dickey. Also, the albatross that was Jason Bay is gone. While I don't expect the Mets to break the bank for big-name free agents, I do expect a lot of action this winter by GM Sandy Alderson.
Biggest needs: Relief pitchers, outfielders, catcher.
Possible free agency targets: Randy Choate, Sean Burnett, Mike Adams, Francisco Rodriguez (just kidding), Matt Capps, Kyle Farnsworth, Jonny Gomes, Raul Ibanez, Scott Hairston, David Ross, Miguel Olivo
Possible trade targets: Tyler Flowers. Justin Upton? Shin-Soo Choo?
The 2012 Marlins were one of the bigger disappointments in baseball and the club is now attempting to reload on the fly, lest it completely waste the momentum it got from building a new ballpark. There's still some good talent here, but it needs to perform up to ability and stay healthy. Expect a very quiet offseason here this time around, as the Marlins scale back payroll without slashing it.
Biggest needs: Cheap relief pitchers, third baseman, outfielder (in moving Logan Morrison to first).
Possible free agency targets: Kevin Youkilis, Scott Hairston, Reed Johnson, Jonny Gomes, Matt Capps, Kyle Farnsworth, Koji Uehara, Joakim Soria, Shawn Camp, Chad Durbin.
Possible trade targets: Alex Rodriguez
For more baseball news, rumors and analysis, follow @EyeOnBaseball on Twitter, subscribe to the RSS feed and "like" us on Facebook.