Remembering Ted Williams on Veterans Day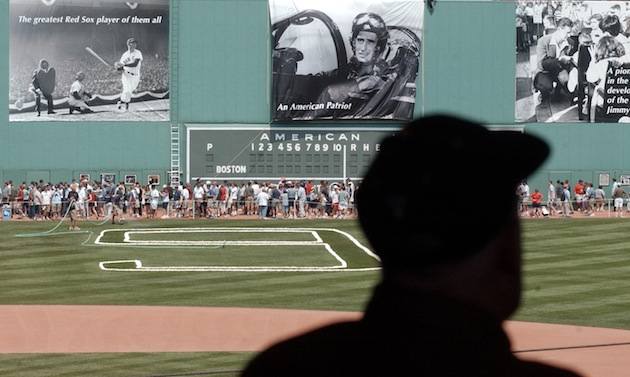 Ted Williams was honored at Fenway Park after his death in 2002. (Getty Images)
On this Veterans Day, we should remember all veterans of our armed services, and hopefully in your small way you have. I'm proud of my father, sister and brother-in-law, all of whom have served. But I also thought of another veteran, former U.S. Marine Corps pilot Ted Williams.
Williams, of course, missed three full seasons of baseball in his prime to serve as a Marine pilot in World War II, as well most of two more seasons to serve in the Korean War.
As it was, Williams finished his career with a 2,654 hits, 521 home runs and 1,839 RBI. But what could he have done had he not spent the better of five seasons serving a greater cause. His hit total is 72nd in baseball history, he's tied for 18th in home runs and 14th in RBI. Without his military service, he could very well have been the man to have broken Babe Ruth's home run record and could also still hold the career RBI crown.
In 1942, Williams' last season before the war, he not only won the triple crown with a .356 average, 36 home runs and 137 RBI, he also led the league in runs (141), walks (145), on-base percentage (.499) and slugging (.648). He came back in 1946 and once again led the league in on-base percentage (.497), slugging (.667), walks (156) and runs (142), winning his first of two Most Valuable Player Awards. Williams hit 38 home runs in 1946 and drove in 123 -- let's just be conservative and say he'd average 36 homers and 123 RBI in 1943-1945, along with 180 hits. He would have been 24-26 those seasons, and after putting up the incredible numbers he did in his first four seasons, it's safe to say those numbers are conservative. With those additions, and just those, that puts him at 3,194 hits, 629 home runs and 2,208 RBI.
Not only would Williams likely have been past the 3,000-hit threshold, but he would currently be 14th on the all-time hit list. The 629 home runs would have had him fourth all-time for a long time, and he'd currently be seventh, one behind Ken Griffey Jr. He'd also be third in RBI, behind only Hank Aaron and Ruth.
But Williams didn't just lose those three seasons. In 1952, he was recalled by the Marines to serve in the Korean War. He played in just six games -- winning his last game 5-3 thanks to his seventh-inning two-run homer -- picking up four hits in 12 plate appearances, with one home run and three RBI. He returned to play 37 games in 1953, hitting 13 home runs and getting 37 hits and 34 RBI. Looking at 1951 (169 hits, 30 home runs and 126 RBI) and 1954 (133 hits, 29 home runs and 89 RBI), we'll conservatively estimate an average of 160 hits, 29 home runs and 115 RBI total for his age 33 and 34 season, minus what he did end up with, and you have an extra 279 hits, 44 homers and 193 RBI. Again, to me this seems conservative, but realistic (and I'm sure someone much better at math can do better than my spitball numbers).
The resulting numbers would give him 3,473 career hits, 663 home runs and 2,401 RBI -- all conceivable numbers. That would rank him sixth all-time in hits (behind Tris Speaker and ahead of Cap Anson), fourth in home runs (behind Babe Ruth and three ahead of Willie Mays) and first in career RBI, easily passing Aaron's career mark of 2,297. With some standout seasons he could have challenged Ruth, and that may have encouraged him to play at least one more season. Even in his final season, 1960, at age 41 he hit .316/.451/.645 with 29 home runs and 72 RBI. There's no reason to think he couldn't have added to his total as a 42-year-old in 1961 -- and had 12 more games in the season to boot.
Williams is rightfully remembered as not just a baseball hero, but also an American hero for his service in two wars. While some players accepted billets as baseball players during the war, Williams chose to enlist in the aviation program in order to become a fighter pilot. Future astronaut John Glenn flew with Williams in the Korean War and called him one of the best pilots he knew. Williams was awarded the Air Medal after an attack in February of 1953 and he flew 39 combat missions in the Korean War.
He's undoubtedly one of the finest players to ever play the game, but there's also no doubt he'd have finished with much better career numbers without losing nearly five full seasons to serving his country. Instead, Williams went a different course, and we're better for it. It's just amazing to consider what he would have been able to do had he been fortunate enough to play his career uninterrupted.
For more baseball news, rumors and analysis, follow @EyeOnBaseball on Twitter, subscribe to the RSS feed and "like" us on Facebook.