Brewers to give away Polish Sausage bobblehead next season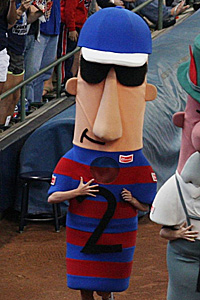 The polish sausage, not yet in bobblehead form. (Getty Images)
It has been 10 days since I posted about the Dodgers' cool bobbleheads for this upcoming season -- seriously, flag-saving Rick Monday! -- so it feels like time to check out another set of bobblehead giveaways.
This time, we're talking about Milwaukee.
The Brewers announced via press release on Monday their schedule of 10 "All-Fan Bobblehead Dates," which include some real cool options for the fans up in the great state of Wisconsin.
My favorite one is easily the polish sausage. On June 23, fans will receive a "Klement's Famous Racing Sausage Polish Bobble," with a jersey donning the word "Piwowarzy," which is the Polish translation for Brewers.
Some others that are pretty awesome in their own right:
• Former manager Harvey Kuenn of "Harvey's Wallbangers" fame, Aug. 4.
• Corey Hart, May 5, which otherwise would be a run-of-the-mill current player bobblehead, but instead he'll be wearing a 1913 Brewers uniform, to honor the 100th anniversary of the Brewers' first American Association championship (which was a minor-league title).
• Gorman Thomas, Sept. 1, will feature Thomas in a Seattle Pilots uniform. He was the first player drafted by the Pilots in 1969. In fact, since the Pilots lasted only one season before moving to Milwaukee, Thomas is the only Pilots' first-rounder ever.
• Hank Aaron 40/30 (40 homers, 30 steals) and Ryan Braun 40/30. Aaron was the first man in MLB history to achieve the feat, doing so for the Milwaukee Braves, and Braun accomplished it this past season. Aaron's will be handed out July 7; Braun's May 26.
For more baseball news, rumors and analysis, follow @EyeOnBaseball on Twitter, subscribe to the RSS feed and "like" us on Facebook.