Transcendent age-19 season earns Bryce Harper NL Rookie of the Year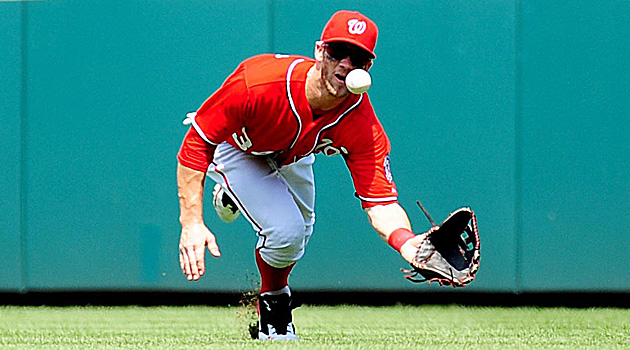 Harper can get it done with the glove, in addition to the bat and on the basepaths. (US Presswire)
Bryce Harper is the National League Rookie of the Year for 2012, after having beaten out Todd Frazier of the Reds and Diamondbacks' starting pitcher Wade Miley. Considering the legions of Harper haters, there is sure to be some fan backlash, but it is wholly undeserved because Harper had a historic season.
As far as 19-year-olds go, in fact, Harper had the best season ever according to baseball-reference.com's WAR. Compare what Harper did to a list of all-time baseball greats at the age of 19:
Age-19 seasons
Player
AVG/OBP/SLG
HR
RBI
R
SB
WAR
Bryce Harper, 2012
.270/.340/.477
22
59
98
18
5.0
Mel Ott, 1928
.322/.397/.524
18
77
69
3
3.7
Ken Griffey Jr., 1989
.264/.329/.420
16
61
61
16
2.9
Ty Cobb, 1906
.316/.355/.394
1
34
45
23
2.3
Tony Conigliaro, 1964
.290/.354/.530
24
52
69
2
1.4
Mickey Mantle, 1951
.267/.349/.443
13
65
61
8
1.3
Al Kaline, 1954
.276/.305/.347
4
43
42
9
0.9
Ivan Rodriguez, 1991
.264/.276/.354
3
27
24
0
0.6
Robin Yount, 1975
.267/.307/.367
8
52
67
12
0.1
This is not an all-inclusive list of 19-year-old players in baseball history, but it wasn't cherry-picked to make Harper look good. Using the play index link above, Harper's 5.0 WAR was, again, the best-ever for a man in his age-19 season (meaning a player's age as of June 30). Ott's season listed above was second and Edgar Renteria (3.1 in 1996) was third. Yes, this is where the WAR detractors point out Ott was superior with the bat, but defense and baserunning are accounted for in WAR, and Harper's a great all-around player (we'll get to that a bit lower).
As can be seen from the chart above, even some transcendent baseball talents struggled at age 19. Every player on the list is an all-time great with the possible exception of Conigliaro, though he was headed for greatness until a pitch to the face ruined his career.
And there are many more examples, including a few recent ones. Alex Rodriguez hit .232/.264/.408 in 48 games when he was 19. 2012 AL Rookie of the Year and AL MVP candidate Mike Trout only lasted 40 games before being demoted, hitting .220/.281/.390. Justin Upton, who finished fourth in MVP voting 2011, hit .221/.283/.364 at 19.
For a little more perspective, NL MVP front-runner Buster Posey was playing for Florida State when he was 19. AL MVP front-runner Miguel Cabrera hit .274/.333/.421 when he was 19 ... for the High-A Jupiter Hammerheads.
Not included on the above chart for Harper: Eight outfield assists, the countless number of times teams didn't attempt to run on Harper due to his cannon for an arm, outstanding defensive range at three different outfield spots, 26 doubles, nine triples, the good that comes from his aggression on the basepaths, his 59 percent rate of extra bases taken on the basepaths and hitting toward the front of the batting order for the team that finished with the best record in baseball.
So if you aren't impressed with what Harper did this season at the tender young age of 19, you're either showing extreme bias against him, not paying attention or for some ridiculous reason think batting average is the only stat that matters (and .270 isn't bad anyway).
What Bryce Harper did was put together arguably the best all-around season in baseball history for a kid under 20 years old. What he did was transcendent and 100 percent deserving of Rookie of the Year.
For more baseball news, rumors and analysis, follow @EyeOnBaseball on Twitter, subscribe to the RSS feed and "like" us on Facebook.