Are Mike Trout and Bryce Harper the best rookie duo ever?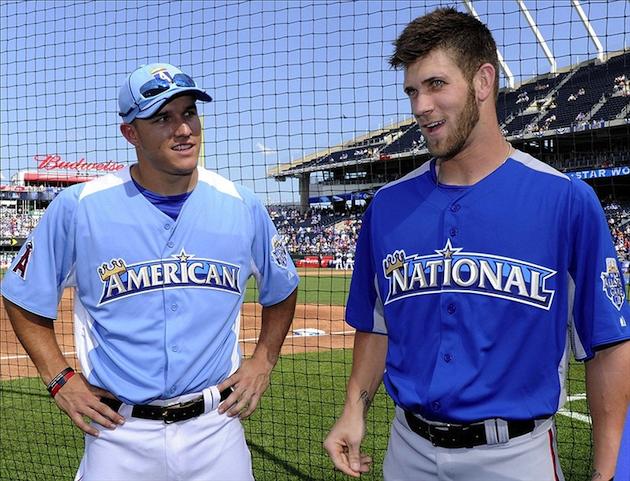 Mike Trout and Bryce Harper won Rookie of the Year in their respective leagues. (US Presswire)
Is Trout the greatest rookie ever?
It's not exactly uncommon to be excited about the future when the Rookie of the Year winners are announced -- it's part of their charm. Although the voting is done on what a rookie did that season and not what he's expected to become, there's always some optimism toward the Rookie of the Year, whether it's Bob Hamelin or Albert Pujols.
This year, though, there may be even more, because we saw one of the greatest rookie seasons of all time and the debut of perhaps the most hyped prospect of all time. Both Mike Trout and Bryce Harper delivered, and they did so in historic fashion.
Although WAR certainly has its detractors, and there's a difference between WAR for hitters and pitchers, it's not exactly apples and oranges, more like grapefruit and oranges -- they're both citrus fruits. Still, it's a fun exercise. Trout's 10.7 WAR (the Baseball-Reference.com version) was one of the best seasons in baseball history, so it's no surprise he and Harper combined for the best total WAR for a pair of Rookie of the Year winners in baseball history. Harper's 5.0 WAR was the best among National League rookies, bettering second-place finisher Wade Miley (3.2) and third-place Todd Frazier (1.9).
Here are the top 10 Rookie of the Year combos:
Best combined rookie seasons
Baseball-Reference.com wins above replacement used
Year
AL Rookie of the Year
WAR
NL Rookie of the Year
WAR
Combined WAR
2012
Mike Trout
10.7
Bryce Harper
5.0
15.7
1964
Tony Oliva
6.6
Dick Allen
8.5
15.1
2001
Ichiro Suzuki
7.5
Albert Pujols
6.3
13.8
1975
Fred Lynn
7.1
John Montefusco
6.2
13.3
1976
Mark Fidrych
9.3
Butch Metzger/Pat Zachry
1.3/3.4
12.7*
1993
Tim Salmon
4.9
Mike Piazza
6.8
11.7
1984
Alvin Davis
5.7
Dwight Gooden
5.4
11.1
1997
Nomar Garciaparra
6.5
Scott Rolen
4.3
10.8
1968
Stan Bahnsen
5.4
Johnny Bench
4.9
10.3
1970
Thurman Munson
5.3
Carl Morton
3.8
9.1
Those, however, are just the single-season WAR numbers, which is all we really have to judge either Trout or Harper at this point. The future, though, seems bright. There are 14 former Rookie of the Year winners in the Hall of Fame, and there are three years in which both Rookie of the Year winners eventually were enshrined in Cooperstown -- 1956 (Luis Aparicio and Frank Robinson), 1967 (Rod Carew and Tom Seaver) and 1977 (Eddie Murray and Andre Dawson), plus another that at this point looks like it will join those three great years for rookies in 2001 (Ichiro Suzuki and Albert Pujols).
More recent vintage seasons that look like they have had two very successful players win Rookie of the Year included 2006 (Justin Verlander and Hanley Ramirez) and 2007 (Dustin Pedroia and Ryan Braun).
Oh, and just for fun, here's your bottom-10 combos:
Worst combined rookie seasons
Baseball-Reference.com wins above replacement used
Year
AL Rookie of the Year
WAR
NL Rookie of the Year
WAR
Combined WAR
1980
Joe Charboneau
2.2
Steve Howe
0.3
2.5
1958
Albie Pearson
0.6
Orlando Cepeda
2.7
3.3
1971
Chris Chambliss
0.3
Earl Williams
3.0
3.3
1962
Tom Tresh
4.1
Ken Hubbs
-0.3
3.8
1996
Derek Jeter
3.0
Todd Hollandsworth
0.9
3.9
1983
Ron Kittle
1.6
Darryl Strawberry
2.4
4.0
1994
Bob Hamelin
2.4
Raul Mondesi
1.6
4.0
1959
Bob Allison
1.1
Willie McCovey
3.0
4.1
1961
Don Schwall
3.4
Billy Williams
0.8
4.2
1992
Pat Listach
4.2
Eric Karros
0.2
4.4
*In the event of a tie, the better WAR among the two tied players was used
For more baseball news, rumors and analysis, follow @EyeOnBaseball on Twitter, subscribe to the RSS feed and "like" us on Facebook.