Team needs: American League Central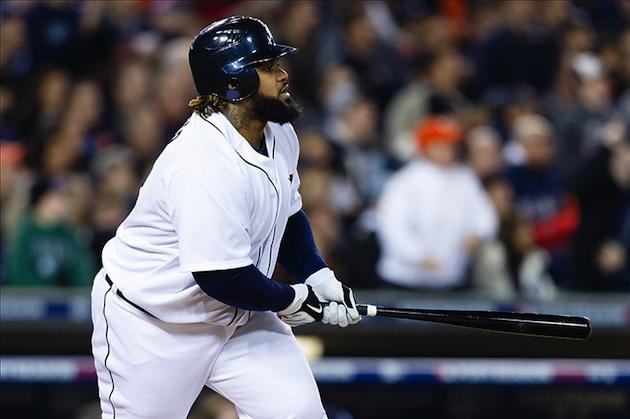 The Tigers surprised almost everyone last season by signing Prince Fielder. (US Presswire)
The latest in the team-needs series is our friends in the American League Central, home of your AL champion Detroit Tigers and four other teams.
There weren't as many headlines out of US Cellular Field this past season thanks to the new manager on the Southside, but there were also more wins. The White Sox led the division with a little more than a week left in the season before falling behind the Tigers for the division lead. Chicago's offense was much improved and it's pitching was better than a year before. Still, it seemed like perhaps the White Sox played a little over their heads while the Tigers meandered but stayed in striking distance. In the end, the Tigers were just a better team. New general manager Rick Hahn takes over for Kenny Williams, who was promoted to president. How that particular pairing works will be interesting to see. The biggest thing Hahn may have to do is restock a barren farm system.
Biggest needs: Third base, catcher, back of the rotation starter.
Possible free-agency targets: Kevin Youkilis, Jeff Keppinger, Eric Chavez, Mike Napoli, Geovany Soto (if non-tendered).
Possible trade targets: Chase Headley, Jarrod Saltalamacchia
For the second year in a row, the Indians teased their fan base with a hot start, leading the AL Central as late as June 23, but by Aug. 6 the Indians were 10 1/2 back. The previous year's fade likely helped Cleveland fans prepare for the inevitable decline, which hit and hit hard, with the Indians finishing the season 68-94. That performance cost Manny Acta his job, as Terry Francona was hired.
Biggest needs: Starter, first base, left field, DH.
Possible free-agency targets: Kevin Youkilis, Jason Bay, Melky Cabrera, Carlos Villanueva, Joe Blanton, Brandon McCarthy, James Loney, Carlos Pena.
Possible trade targets: If the Indians go the trade route, it will be sending the likes of Shin-Soo Choo, Chris Perez, Justin Masterson or Asdrubal Cabrera away in return for prospects.
The Tigers spent freely last offseason, bringing in Prince Fielder, so it wouldn't be a shock to see them spend big again in an attempt to get over the hump. The team is unlikely to bring back Jose Valverde, but it seems that prospect Bruce Rendon could be handed the ninth-inning role. Austin Jackson rebounded to have a very good 2012, but he could be flanked by two new outfielders, helping bring some balance to the team's lineup. Nobody saw the Tigers as a bidder for Fielder before he signed there, so could they be a surprise team for Josh Hamilton or Zack Greinke? Don't count them out.
Biggest needs: Corner outfielders, starter, closer.
Possible free-agency targets: Anibal Sanchez, Zack Greinke, Edwin Jackson, Torii Hunter, Josh Hamilton, Nick Swisher, Melky Cabrera, Gerald Laird, Ryan Madson
Possible trade targets: Justin Upton, James Shields.
Remember the best farm system in the history of the written world? Well, the Royals have another prized prospect expected to debut in 2013 but like the others, Wil Myers isn't a pitcher. The Royals' opening-day starter in 2012 was Bruce Chen. And it didn't get much better than that.
Biggest needs: Pitching, pitching, pitching, pitching, pitching, pitching. Oh, and pitching.
Possible free-agency targets: Jeremy Guthrie, Joakim Soria, Zack Greinke, Shaun Marcum, Kyle Lohse, Carlos Villanueva, Francisco Liriano, Joe Blanton, Kevin Millwood, Edwin Jackson.
Possible trade targets: The Royals have been mentioned in the Justin Upton sweepstakes, but it seems unlikely. More likely is the Royals make one of their big names -- Alex Gordon, Eric Hosmer or Mike Moustakas available for the right price, which is big-league ready, cost-effective pitching. Add them to the list of teams that could make a run at the Rays' James Shields.
The Twins were swept in the division series in both 2009 and 2010, disappointing fans. But since then the team has lost a total of 195 games in two years -- making those sweeps look a lot less disappointing. Terry Ryan came in last year to try to right the ship, but it looks like it could be a tough rebuilding process. The biggest need is still starting pitching, but the Twins are hardly alone in that boat, meaning it could be tough to find their much-needed upgrades to their rotation.
Biggest needs: Starting pitching, shortstop.
Possible free-agency targets: Anibal Sanchez, Brandon McCarthy, Ryan Dempster, Brett Myers, Jeremy Guthrie, Shaun Marcum, Carlos Villanueva, Joe Blanton, Stephen Drew.
Possible trade targets: James Shields. The Twins are more likely to send known names out in a trade than bring one in. Denard Span could be attractive to teams looking for a center fielder (meaning a trade would likely wait until after Michael Bourn picks a team), while the Twins would be looking for young arms in return. Josh Willingham is affordable for a team looking for a big bat, but he would probably bring back less in return than Span.
For more baseball news, rumors and analysis, follow @EyeOnBaseball on Twitter, subscribe to the RSS feed and "like" us on Facebook.