Ranking the five worst owners in baseball: An ode to Miami's Jeffrey Loria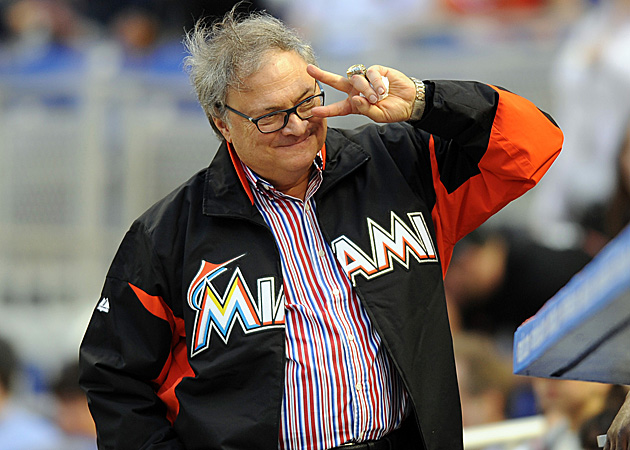 Jeffrey Loria is apparently celebrating the fact he's baseball's worst owner. (US Presswire)
In light of the Marlins once again staging a pathetic fire sale, I figured the time was right to rank the worst owners in baseball. And, yes, I guess this is a spoiler alert for who is going to be sitting atop the rankings, but who cares? Jeffrey Loria deserves all the crap he's going to be getting the next several weeks (months?).
More Marlins-Jays trade coverage
More MLB coverage
Anyway, we'll get to him in a second. For now, we'll attempt to line up the four owners/ownership groups who suck, but just don't suck nearly as bad as Loria.
We'll do this while longing for 30 owners like Detroit's Mike Ilitch.
5. Peter Angelos, Orioles : That the Orioles made an improbable playoff run this past season does not relieve Angelos for what he's done to this once-proud franchise over the past 15 years. Buck Showalter and his players get the credit for the magical 2012 season, not Angelos. I'll need to see an extended run of playoff berths before thinking Angelos is good at owning an MLB team.
4. The Dolan family, Indians: Remember when the Indians used to go to the playoffs every year? It wasn't that long ago, but it sure seems like it. The Dolans bought the team in 2000 and the Indians have made the playoffs only once since 2001. They have traded CC Sabathia and Cliff Lee since then, though. Cry small market if you wish, but Dolan bought the club for $323 million in 2000 and Forbes magazine values the club at $410 million now. Also, the Reds, Cardinals and Brewers play in smaller TV markets. They seem to do OK.
3. David Glass, Royals: If there's anything fans in a great baseball city like Kansas City hate, it's frugality. Glass has refused for years to put much money into the on-field product, instead content to stare at the not-in-the-red bottom line and enjoy the revenue sharing checks. He has said he'll spend for starting pitching this offseason and the Royals did trade for Ervin Santana. So maybe he will move off this list soon. We'll see.
2. The Wilpon family, Mets: The Mets should be one of baseball's powerhouse franchises, residing in by far the largest media market. Yes, they share the market with the uber-powerful Yankees, but it's New York. Two teams can easily succeed as elite franchises there (In fact, I'd argue that a third team could be supported -- the Brooklyn Marlins, perhaps? I kid, I kid.) Instead, the Mets toil under a mass of financial questions, stemming at least partially from the Wilpons' involvement with ponzi schemer Bernie Madoff. It's actually amazing that the Wilpons aren't No. 1 here now that Frank McCourt doesn't own the Dodgers anymore. Then again. ...
1. Jeffrey Loria, Marlins: First, read Scott Miller's utter beatdown of Loria from Tuesday night. Miller nailed it. Good lord, for years we heard they just needed a new stadium. Then they got one, using taxpayer money to help get the job done. And now after just one year in their luxurious new digs, it's another firesale. Embarrassing. Let us also not forget it was Loria who ruined the Montreal Expos. So I guess we can say he ruined two franchises. Let's hope it stops there. He needs to sell this ballclub and never own one again.
Also considered: Bob Nuttig, Pirates; the Monfort family, Rockies; Lew Wolff, A's; and Hiroshi Yamauchi of the Mariners, simply because he's never attended a game of the team he owns. Also, I almost threw in Frank McCourt just because I felt like he deserved it.
For more baseball news, rumors and analysis, follow @EyeOnBaseball on Twitter, subscribe to the RSS feed and "like" us on Facebook.