MVPs to be announced Thursday night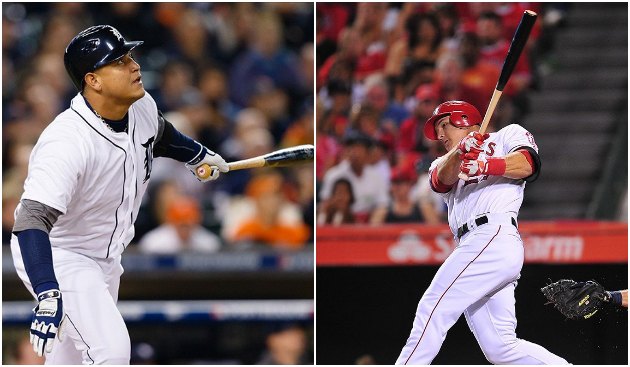 Miguel Cabrera and Mike Trout are the favorites to be named AL Most Valuable Player. (US Presswire)
Sometime around 6:47 p.m. ET on Thursday. Twitter might just explode when the Baseball Writers Association of America announces the American League Most Valuable Player live on MLB Network. The undercard, the National League MVP, will be announced at 6:17 p.m.
Despite the interesting subplots in the NL, the AL debate is the main event. This month has had its share of nasty debates involving one election, and this one might be even more divisive. Regardless of what happens, an outstanding, deserving player will end up with the hardware, while another outstanding, deserving player goes home empty-handed.
AL MVP finalists
Adrian Beltre, Rangers: Beltre's second season in Texas was even better than his first, hitting .321/.359/.561 with 36 home runs and 102 RBI, while winning his fourth career Gold Glove.
Miguel Cabrera, Tigers: Cabrera is the favorite, winning the Triple Crown, as well as leading the league in slugging (.606), OPS (.999) and total bases (377), while playing in 161 of the team's 162 regular-season games. And then there's also this stat -- 19 of the last 20 American League MVPs have come from postseason teams.
Robinson Cano, Yankees: Many might see the following as heresy, but is it possible for a Yankee player -- and the Yankees' best player -- to be underrated? If you're making that argument, you might be able to point toward Cano. Not only did Cano pick up his second Gold Glove in 2012, he also hit .313/.379/.550 with a career-high 33 home runs and 94 RBI.
Josh Hamilton, Rangers: The early favorite to run away with the award, Hamilton finished the season with a more-than-respectable line of .285/.354/.577 with a career-best 43 home runs. But after an other-worldly first half, Hamilton struggled in the second half, hitting just .259/.323/.510 with 16 home runs in 69 games after the All-Star break.
Mike Trout, Angels: Trout won a unanimous vote for Rookie of the Year and is the MVP favorite of many statistically-inclined people, even if they don't believe he'll get enough votes from the 28 voters. Trout led the league with 129 runs scored and 49 stolen bases, his 171 OPS+ was also best in the AL. His 10.7 WAR by Baseball-Reference.com is 20th best among batters since 1901. The names on that list are Babe Ruth, Carl Yastrzemski, Rogers Hornsby, Barry Bonds, Lou Gehrig, Cal Ripken, Honus Wagner, Mickey Mantle, Ty Cobb, Willie Mays, Joe Morgan and Stand Musial. Ted Williams also had one season with a 10.7 WAR.
NL MVP finalists
Ryan Braun, Brewers: The most interesting thing might be to see where Braun finishes on the ballot and if anyone left him off a ballot because of his positive drug test last offseason. Braun hit .319/.391/.595 with 41 home runs and 112 RBI. He hit eight more homers this season than he did last season.
Chase Headley, Padres: Playing at Petco Park, Headley hit .286/.376/.498 with 31 home runs and a league-leading 115 RBI. He also picked up his first Gold Glove. The 28-year-old was a popular subject of trade rumors at the deadline, but the Padres kept him and might now build around him.
Andrew McCutchen, Pirates: An early favorite for the award, like his team, McCutchen struggled down the stretch. The Pirates went 19-39 after Aug. 1, and McCutchen hit just .248/.345/.417 over that stretch as opposed to .373/.432/.632 before and .290/.374/.484 overall. McCutchen still led the league with 194 hits and won his first Gold Glove.
Yadier Molina, Cardinals: The undisputed top defensive catcher in the game, the 30-year-old put up his best offensive season of his career, setting career-highs in batting average (.315), on-base percentage (.373), slugging percentage (.501), home runs (22), RBI (76), runs (65), hits (159) and even stolen bases (12). He also threw out 48 percent of those who tried to steal against him, while leading the Cardinals to another playoff appearance.
Buster Posey, Giants: The favorite, Posey hit .336/.408/.549 with 24 home runs and 103 RBI. Thanks to the bowing out of Melky Cabrera in the batting title, Posey took home that award and also put up a 172 OPS+, the best in baseball. Posey played in 148 games, starting 111 games behind the plate. In the second half of the season, Posey hit .385/.456/.646 with 14 home runs and 60 RBI in 71 games.
For more baseball news, rumors and analysis, follow @EyeOnBaseball on Twitter, subscribe to the RSS feed and "like" us on Facebook.