Mariners putting in baseball's biggest scoreboard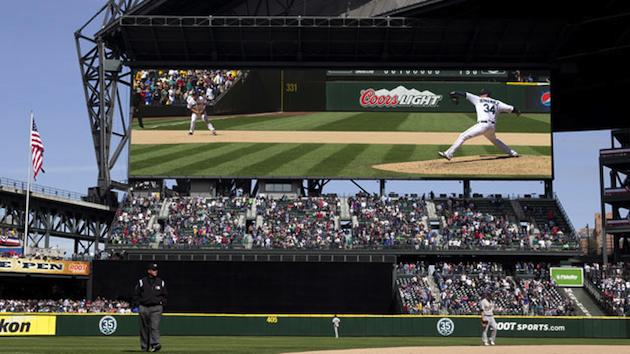 The Mariners are putting a new scoreboard in Safeco Field. (Mariners)
If you ever wanted to go to the ballgame and still feel like you're sitting at home in front of the TV, Seattle's Safeco Field may have the answer.
The Mariners announced Thursday they will begin the 2013 season with the largest video board in the majors, putting a 201-foot-wide high-definition screen in center field. The board will be more than 57 1/2 feet high and 201 1/2 feet wide, making it 11,425 square feet -- larger than the 8,820-square foot board in Kansas City.
The Mariners' scoreboard will be just a little smaller than the huge video scoreboard at Cowboys Stadium, which measures 11,520 square feet.
The new screen will go in the same place where the current scoreboard is located. The team is also moving its fences in.
The screen is part of a $15 million upgrade plan for the stadium, a bargain compared to the $8 million the team will pay for Chone Figgins next season.
For more baseball news, rumors and analysis, follow @EyeOnBaseball on Twitter, subscribe to the RSS feed and "like" us on Facebook.