Marlins owner Jeffrey Loria is slightly more popular than Cuban dictator Fidel Castro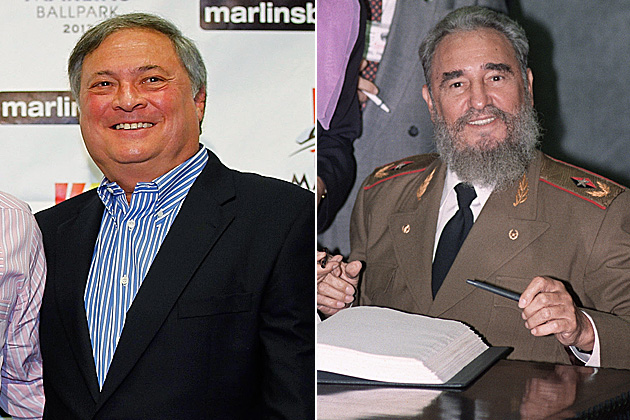 Loria is still more popular than Castro. (Getty Images)
Controversial Marlins owner Jeffrey Loria is still more popular in South Florida than Cuban dictator Fidel Castro, but the margin isn't significant.
According to a poll taken in South Florida of 400 baseball fans by Bendixen & Amandi International (via miamiherald.com), only 6 percent had a "favorable" opinion of Loria -- and a third of those were people who know Loria personally. The report notes that Castro's favorability rating among respondants is about 1 percent, so Loria gets the slim victory here. I'm sure that's exciting for him.
Sarcasm aside, the rest of the numbers aren't pretty either (via miamiherald.com):
• 87 percent of Marlins fans feel "furious and betrayed'' by the team ownership.

• 83 percent of Marlins fans have an "unfavorable'' opinion of Loria.

• 61 percent of respondents identifying themselves as season ticket holders would support a boycott next season if that would force Loria to sell the team.

• 85 percent of Marlins fans believe the trade will benefit the Toronto Blue Jays more than the Marlins

• 95 percent think the trade was a "fire sale,'' while only 4 percent think the trade intended to make the team better.

• 89 percent feel Loria has a moral obligation to field a good team because the new $515 million stadium was built largely with public funds.
And how about some fan quotes? Here are three beauties from fans who were polled (via miamiherald.com):
"He's a leech and is sucking the money from Miami and baseball."

"I hate him. All he cares about is lining his pockets. He just cares about money and not his team or fans. I wouldn't spend a dime on him!"

"He is a greedy crook, got what he wanted and now is not giving back to us. He should repay the city for the entire cost of the stadium plus interest."
Most of the venom directed at Loria centers on the Marlins' blockbuster trade earlier this month that sent Jose Reyes, Mark Buehrle and Josh Johnson to Toronto. This happened only one season since a spending spree in advance of moving into a new, mostly publicly financed ballpark.
Hat-tip: Big League Stew
For more baseball news, rumors and analysis, follow @EyeOnBaseball on Twitter, subscribe to the RSS feed and "like" us on Facebook.