Red Sox have now traded both players they got for Kevin Youkilis with little in return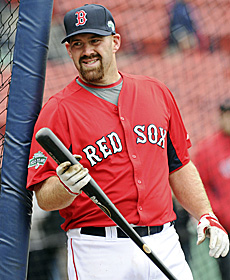 Was it entirely necessary to trade Youkilis? (US Presswire)
The Pirates have acquired pitcher Zach Stewart from the Red Sox for a player to be named later. This really wouldn't be much in terms of newsworthiness, except for something I can't shake that happened this past season.
My takeaway from the minor move? Boy, the Red Sox really wanted to get rid of Kevin Youkilis this past summer. After an early-season spat between Youkilis and manager Bobby Valentine and the emergence of rookie third baseman Will Middlebrooks, the Red Sox dealt Youkilis to the White Sox on June 24. In return, the Red Sox received Stewart and utility player Brent Lillibridge.
The Red Sox didn't get much salary relief for Youkilis leaving, either, as they paid nearly all of his 2012 salary. He was set to be a free agent after the season, too.
Lillibridge was 2-for-16 with no walks and no extra-base hits for the Red Sox before being traded to the Indianson July 24. In return, Boston received pitcher Jose De La Torre, who is 27 and still hasn't made the majors.
Stewart posted a 22.24 ERA in 5 2/3 innings for the Red Sox. He was designated for assignment Nov. 20, and now he's gone for a player to be named later (which usually amounts to a lower-level minor-leaguer in cases like these).
Youkilis, 33, is hardly All-Star caliber these days, but he still hit 19 homers with a .745 OPS. Trading him crippled the Red Sox corner-infield depth, as they found out when Middlebrooks ended up injured.
Considering the Red Sox were 38-34 when they traded Youkilis, it's definitely worth wondering why it was so important to trade him for nothing. Then again, it's probably not too difficult to figure out -- I think his initials are B.V.
For more baseball news, rumors and analysis, follow @EyeOnBaseball on Twitter, subscribe to the RSS feed and "like" us on Facebook.