Bonds, Clemens headline official BBWAA Hall of Fame ballot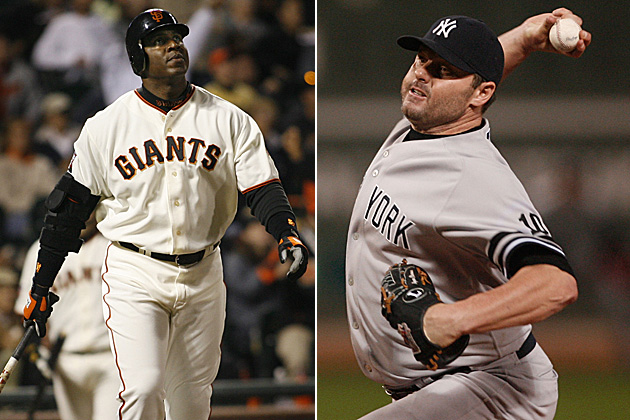 Barry Bonds and Roger Clemens headline a polarizing Hall of Fame ballot. (Getty Images)
The Baseball Writers Association of America has revealed its Hall of Fame ballot for the 2013 class on its official website, and this group is bound to generate plenty of discussion -- even more than the usual sanctimonious lecturing across the 'net.
Headlining the ballot are two men whose career numbers put them among the all-time greatest players in baseball history: Barry Bonds and Roger Clemens.
Those two aren't alone in a star-studded class of first-year eligibles, as Craig Biggio, Sammy Sosa, Mike Piazza and Curt Schilling join them.
The top holdovers from previous ballots include Jack Morris, Jeff Bagwell, Lee Smith, Tim Raines, Alan Trammell and Edgar Martinez.
Members of the Baseball Writers' Association of America for at least 10 years will vote through next month. The results will be announced Jan. 9 on MLB Network. To gain induction into the Hall of Fame, players must be listed on at least 75 percent of the ballots.
Those falling short of induction can remain on the ballot so long as they receive at least 5 percent of the vote. Players can then remain on the ballot for 15 years before being removed, meaning a few holdovers are up against the gun here. Morris is in his 14th year, Don Mattingly his 13th and Dale Murphy his 15th and final year on the ballot.
While all Hall of Fame classes are polarizing to a degree, this one is especially because of the inclusion of Bonds, Clemens and Sosa and rampant speculation about their possible use of performance-enhancing drugs. Also note the connection of ballot holdovers Mark McGwire (who admitted to using) and Rafael Palmeiro (who tested positive for using in 2005).
Last season, only one man was elected via the BBWAA vote, and that was Barry Larkin.
Here's the full list of former players on this year's BBWAA Hall of Fame ballot.
Holdovers (with last season's percentage of the vote; year on ballot)
Morris (66.7%; 14)
Bagwell (56%; 3)
Smith (50.6%; 11)
Raines (48.7%; 6)
Trammell (36.8%; 12)
Martinez (36.5%; 4)
Fred McGriff (23.9%; 4)
Larry Walker (22.9%; 3)
McGwire (19.5%; 7)
Mattingly (17.8%; 13)
Murphy (17.8%; 15)
Palmeiro (12.6%; 3)
Bernie Williams (9.6%; 2)
First-year eligibles (listed in alphabetical order)
Sandy Alomar Jr.
Craig Biggio
Barry Bonds
Jeff Cirillo
Royce Clayton
Roger Clemens
Jeff Conine
Steve Finley
Julio Franco
Shawn Green
Roberto Hernandez
Ryan Klesko
Kenny Lofton
Jose Mesa
Mike Piazza
Reggie Sanders
Curt Schilling
Aaron Sele
Sammy Sosa
Mike Stanton
Todd Walker
David Wells
Rondell White
Woody Williams
Let the arguing and name-calling commence immediately. After all, you only have six weeks.
For more baseball news, rumors and analysis, follow @EyeOnBaseball on Twitter, subscribe to the RSS feed and "like" us on Facebook.