Will Phillies give in, sign Michael Bourn to huge dollars?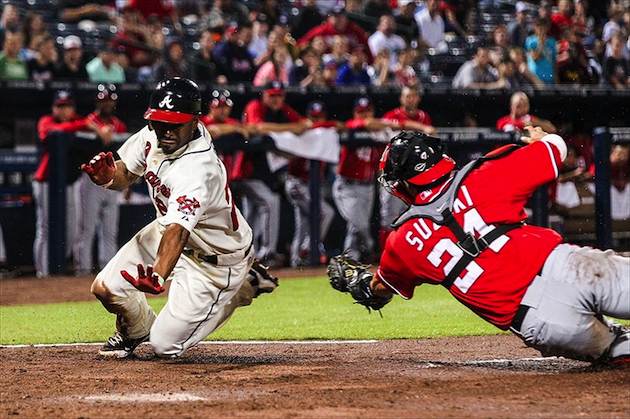 Will Michael Bourn eventually head to Philly by default? (US Presswire)
NASHVILLE, Tenn. -- B.J. Upton has signed with the Braves. Angel Pagan has re-signed with the Giants. The Nationals have traded for Denard Span. So, then, in an imaginary game of center fielder musical chairs, the Phillies have an open seat and Michael Bourn is still standing -- meaning it's a no-brainer that they'll sign him, right?
Not so fast.
As CBSSports.com's Danny Knobler reports, the Phillies haven't liked Bourn's asking price to this point, as it's pretty steep (some report upwards of nine figures total on a potential deal).
Shane Victorino remains on the market, as does Josh Hamilton (though he's best suited to stay in left field these days, and he'll probably cost more than Bourn).
Still, Bourn seems like the best fit for the Phillies. He'd provide excellent defense in center field while giving them an excuse to bump down Jimmy Rollins and his .316 on-base percentage in the batting order.
It's also worth noting that the market for a high-priced center field at this point isn't large. Most of the teams willing to spend copious amounts of cash on a center fielder already have one. So it means a remarriage of Bourn and Philly makes a lot of sense. It's just that what makes sense isn't always what happens. Right now, price would appear to be a major obstacle.
Sometimes the market develops late and -- to name one team -- we know the Mariners are hoping to spend money this offseason to add offense. Also, the Phillies could explore other avenues to fill their hole in center, like a trade.
So Bourn-to-Phillies seems unlikely at this juncture, but we can't rule it out.
Bourn, 29, hit .274/.348/.391 with 26 doubles, 10 triples, nine homers, 57 RBI, 96 runs and 42 stolen bases for the Braves last season.
For more baseball news, rumors and analysis, follow @EyeOnBaseball on Twitter, subscribe to the RSS feed and "like" us on Facebook.