David Wright, Joe Mauer to play for US in World Baseball Classic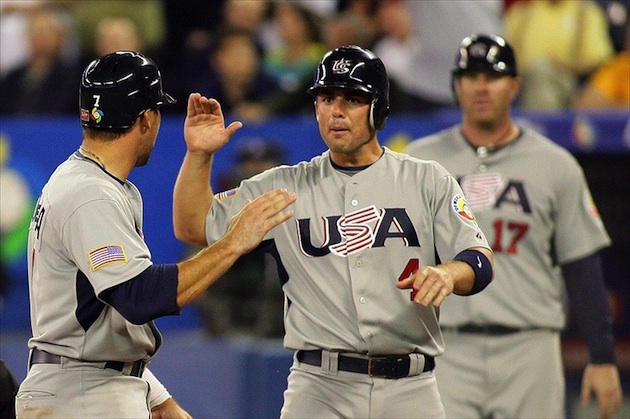 David Wright will play for the U.S. team in the WBC again in 2013. (US Presswire)
David Wright and Joe Mauer are the first two players announced as members of Team USA for next spring's World Baseball Classic. Meanwhile, Venezuela will feature both the American League MVP in Miguel Cabrera and the World Series MVP in Pablo Sandoval, it was announced on Monday.
Also as part of the announcement was the finalization of the schedule, with Canada joining the United States, Mexico and Italy in Pool D in Arizona from March 7-10.
Other players announced were Brett Lawrie and Justin Morneau for Canada, Chien-Ming Wang and Hong-Chih Kuo for Chinese Taipei, Robinson Cano and Jose Reyes for the Dominican Republic, Adrian Gonzalez and Jaime Garcia for Mexico, Andruw Jones and Roger Bernadina for the Netherlands and Carlos Beltran and Yadier Molina for Puerto Rico.
Defending champion Japan's two roster announcements will be unfamiliar names to fans of North American baseball, as many of the highest profile Japanese players (Ichiro Suzuki, Yu Darvish) have already announced they would not participate. However, 2012 NPB triple crown winner Shinnosuke Abe, a catcher for the Yomiuri Giants, and right-hander Masahiro Tanaka.
Pool A will feature Brazil, China, Cuba and Japan from March 2-6 in Fukuoka, Japan. Australia, Chinese Taipei, Korea and the Netherlands play from March 2-6 in Taiwan. Pool C will be played in Puerto Rico with the Dominican Republic, Puerto Rico, Spain and Venezuela from March 7-10.
For more baseball news, rumors and analysis, follow @EyeOnBaseball on Twitter, subscribe to the RSS feed and "like" us on Facebook.