Andre Dawson: Roger Clemens, Barry Bonds don't deserve spots in Hall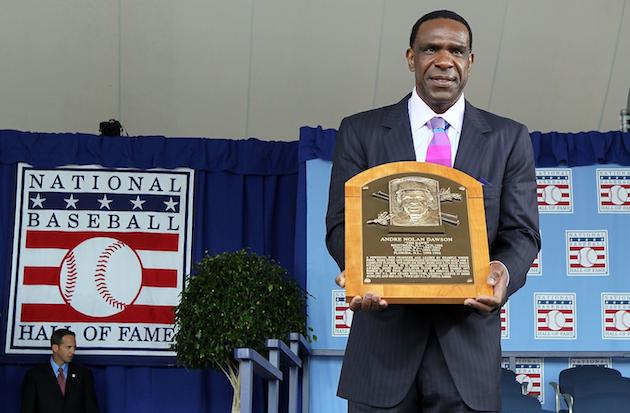 Andre Dawson was enshrined in Cooperstown in 2010. (Getty Images)
There are plenty of people who say Andre Dawson doesn't belong in the Hall of Fame, but now the 1987 National League MVP and 2010 Hall of Fame inductee is the one saying who shouldn't be enshrined in Cooperstown.
Dawson, now a Marlins special assistant, told Joe Capozzi of the Palm Beach Post that he doesn't believe Barry Bonds and Rogers Clemens deserve a spot in Cooperstown.
"I can't say how the voters are going to react in the years ahead, but they wouldn't get my vote for the simple reason that the rules were broken," Dawson told Capozzi during the winter meetings. "One of the criteria is integrity of the game and I think that was broken. There are probably individuals in the Hall of Fame who haven't abided by all of the rules, but this is something that was detrimental to the history of the game and that's the problem I have.
"When I see records being shattered left and right for selfish reasons, just to make more money, that's when I have a problem with it."
Dawson said that based on discussions he's had with writers, he expects Bonds to get in eventually, but not this season. He also said he doesn't expect Clemens or Sammy Sosa to ever get in through the writers' ballot.
For more baseball news, rumors and analysis, follow @EyeOnBaseball on Twitter, subscribe to the RSS feed and "like" us on Facebook.