Michael Young not the answer for Phillies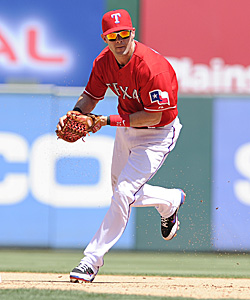 Young's lack of range will hurt. (Getty Images)
RELATED: Young approves trade to Philly
As a seven-time All-Star and possessor of 2,230 career hits, it's rather obvious Michael Young was once a very good player.
He's just not a good player anymore.
Last season, Young hit .277/.312/.370 with eight homers, 67 RBI and 79 runs in one of baseball's most powerful offenses. The Rangers play their games in one of baseball's most hitter-friendly parks, yet all he could muster was a 78 OPS-plus.
But the offense isn't even close to the worst part of the story here. Young is going to have to play defense every day in Philadelphia, where third base is the Phillies' hole.
Young has never had good range defensively. But now that he's 36 years old, he's among the worst defenders in baseball.
According to defensive runs saved, Young posted a negative-six figure last season at third base. In only 25 starts there. Think about that. In just 25 games, Young cost his team six runs more than an average third baseman would. His ultimate zone rating at third base was negative 4.8 (click here for an explanation on defensive metrics).
I generally ignore fielding percentage when evaluating defensive players -- unless it's awful -- because you can't make an error on a play when you can't get to a ball. But for those who care, Young's career fielding percentage hovers right around the league average.
Put simply, Young is a statue on defense. If a ground ball is a few feet to either side of him, it's going to end up in the outfield as a base hit. If a player can hit like, say, Miguel Cabrera, defensive shortcomings are much easier to overlook, but Young's 78 OPS-plus last season says he was 22 percent worse than the league average hitter in terms of on-base percentage (not making outs) and slugging percentage (hitting for power).
For those into advanced metrics, his WAR numbers are horrifying. Fangraphs WAR has Young at negative 1.4 for last season while Baseball-Reference.com WAR has him at negative 2.4. In layman's terms, that means those stats estimate the Rangers could have plugged in a run-of-the-mill major-leaguer for Young all season and won 1-2 more games. Note that they lost out on the AL West by one game.
Young is an incredible off-field citizen and great clubhouse guy, but everything about him on the field screams a far-below-average player in 2013. And he's now the Phillies' everyday third baseman.
For more baseball news, rumors and analysis, follow @EyeOnBaseball on Twitter, subscribe to the RSS feed and "like" us on Facebook.