R.A. Dickey-to-Toronto trade talks serious, d'Arnaud to be included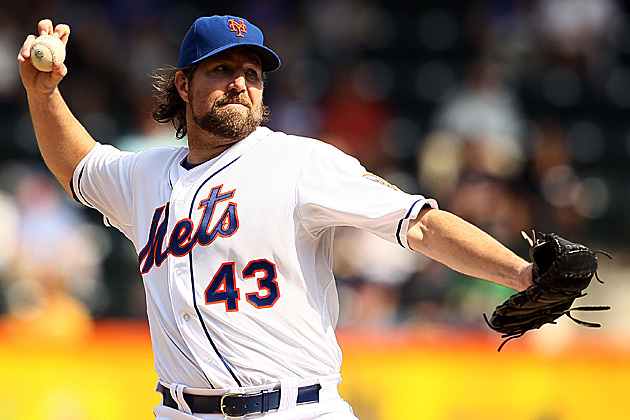 Dickey could be yet another star headed to Toronto this offseason. (Getty Images)
The Mets remain in serious talks to complete a deal that would send 2012 NL Cy Young winner R.A. Dickey to the Blue Jays, reports CBSSports.com's Jon Heyman. The clubs are hoping to finalize a deal very soon.
The difference in where things stand Saturday as opposed to Friday night is that the two clubs have settled on the major part of the return for Dickey.
More Hot Stove news
Related content
The Blue Jays are believed to have originally offered catcher J.P. Arencibia and outfielder Anthony Gose, but the Mets rejected that offer and instead focused on highly-touted catching prospect Travis d'Arnaud.
As things stand now, the two clubs are believed to have agreed that the centerpieces of the deal can be Dickey and d'Arnaud, reports Heyman, but the Blue Jays are going to want a prospect with Dickey, due to how coveted d'Arnaud is. Gose will not be part of the deal.
Late Saturday night, a report from Joel Sherman of the New York Post surfaced that indicates this is now a seven-player deal. He has the Mets getting d'Arnaud, prospect pitcher Noah Syndergaard, catcher John Buck and another prospect for Dickey, catcher Josh Thole and another prospect.
Also, Dickey is willing to talk extension with the Blue Jays once the deal is agreed upon. He had been looking for at least $26 million in a two-year deal from the Mets.
Dickey, 38, was 20-6 with a 2.73 ERA, 1.05 WHIP and 230 strikeouts in 233 2/3 innings last season, also adding five complete games and three shutouts. He made his first All-Star appearance and took home the first Cy Young award in history for a knuckleballer.
D'Arnaud, 23, hit .333/.380/.595 with 16 homers, 52 RBI, 45 runs and 21 doubles in just 67 games last season for Triple-A Las Vegas. He entered the season as a top-20 prospect in all of baseball.
Also of note: This is the second time d'Arnaud will have been involved in a trade for a Cy Young winner. He was a first-round pick of the Phillies in the 2007 draft and was dealt to the Blue Jays as part of the package that landed Roy Halladay.
Syndergaard, 20, is a 6-foot-5 right-hander who the Blue Jays took 38th overall in the 2010 draft. He was 8-5 with a 2.60 ERA, 1.08 WHIP and 122 strikeouts in 103 2/3 innings last season for Class-A Lansing.
For more baseball news, rumors and analysis, follow @EyeOnBaseball on Twitter, subscribe to the RSS feed and "like" us on Facebook.