Bookmaker makes Blue Jays the World Series favorite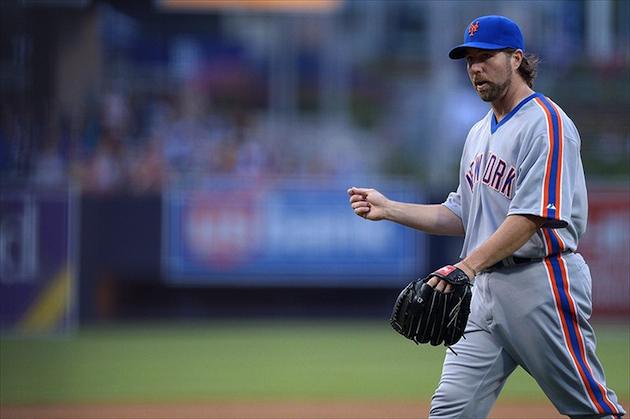 Does R.A. Dickey make the Blue Jays the World Series favorites? (US Presswire)
Have the Blue Jays' moves, including adding reigning National League Cy Young winner R.A. Dickey, help Toronto win the World Series? According to some folks in Las Vegas, Toronto is now the favorite to win the World Series. Bovada.lv has released its latest odds for 2013, with the Blue Jays leading the way with 15-2 odds. The Blue Jays were 12-1 at Bovada.lv before acquiring Dickey.
Now, let's remember, the goal of the oddsmakers isn't to get it right -- it's to get money on both sides. So the Blue Jays having the best odds isn't because the people in Las Vegas think the Blue Jays will win, they think enough people will think the Blue Jays will win and enough people will think they won't, to even out on both sides. But that doesn't mean these things aren't fun.
Here's the latest MLB odds from Bovada.lv:
Toronto Blue Jays 15-2
Los Angeles Angels 17-2
Los Angeles Dodgers 17-2
Washington Nationals 9-1
Detroit Tigers 10-1
Cincinnati Reds 12-1
Texas Rangers 12-1
New York Yankees 14-1
Atlanta Braves 16-1
Philadelphia Phillies 16-1
San Francisco Giants 16-1
Tampa Bay Rays 22-1
Boston Red Sox 25-1
St. Louis Cardinals 25-1
Oakland Athletics 30-1
Milwaukee Brewers 35-1
Baltimore Orioles 40-1
Chicago White Sox 40-1
Arizona Diamondbacks 45-1
Kansas City Royals 50-1
Pittsburgh Pirates 50-1
Cleveland Indians 75-1
Minnesota Twins 75-1
New York Mets 75-1
Seattle Mariners 75-1
Chicago Cubs 100-1
Colorado Rockies 100-1
Miami Marlins 100-1
San Diego Padres 100-1
Houston Astros 200-1
As for the American League East? The Blue Jays, of course, are the favorite there, too:
Toronto Blue Jays 3-2
New York Yankees 19-10
Tampa Bay Rays 5-1
Boston Red Sox 11-2
Baltimore Orioles 10-1
There are also prop bets on the Blue Jays, with the over/under for wins at 92 1/2, Dickey's over/under win total is 16 1/2 and an ERA of 3.10.
For more baseball news, rumors and analysis, follow @EyeOnBaseball on Twitter, subscribe to the RSS feed and "like" us on Facebook.